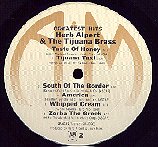 A&M Album Discography, Part 6
SP 4600-4699 (1976-1977)
By Patrice Eyries, Dave Edwards, & Mike Callahan
Last update: February 6, 2007






Tracks on each album are listed in the order they appear on the album. An asterisk (*) before the record number indicates we do not have information on the correct playing sequence of the tracks, and consequently they are listed in alphabetical order for that album.

We would appreciate any additions or corrections to this discography. Just send them to us via e-mail. Both Sides Now Publications is an information web page. We are not a catalog, nor can we provide the records listed below. We have no association with A&M Records. Should you be interested in acquiring albums listed in this discography (which are all out of print), we suggest you see our Frequently Asked Questions page and follow the instructions found there. This story and discography are copyright 2001, 2007 by Mike Callahan.



A&M ALBUM DISCOGRAPHY, PART 6

Number - Title - Artist [Release Date] Contents

SP 4600 - Live At Last! - Tim Weisberg [1976] (10-76, #148) The Good Life/Rainbow City/Discovery/Listen To The City/Your Smiling Eyes//Do Dah/California Memories (Sand Castles-The King's Highway)/Castille/The Chase

SP 4601 - Men From Earth - Ozark Mountain Daredevils [1976] (10-76, #74) Fly Away Home/You Know Like I Know/Breakaway (From Those Chains)/The Red Plum/Mountain Range//Watermill/Noah/It's How You Think/Arroyo/Homemade Wine

SP 4602 - Be Bop 'N' Holla - Andy Fairweather-Low [1976] Shimmie-Doo-Wah-Sae/Ain't No Fun Anymore/Da Doo Rendezvous/Hot Poop/Travellin' Light/Rocky Raccoon//Lighten Up/I Can't Take Much More/Rhythm 'N' Jazz/Checking Out The Checker/Be Bop 'N' Holla

SP 4603 - Gulf Winds - Joan Baez [1976] (11-76, #62) Sweeter For Me/Seabirds/Caruso/Still Waters At Night/Kingdom Of Childhood//O Brother!/Time Is Passing Us By/Stephanie's Room/Gulf Winds

SP 4604 - Crystal Ball - Styx [1976] (10-76, #66) Also issued on gold vinyl. Put Me On/Mademoiselle/Jennifer/Crystal Ball//Shooz/This Old Man/Clair De Lune-Ballerina (Instrumental)

SP 4605 - Flying - Hometown Band [1976] Flying/Mad Larry/Everybody Wants To Get To Heaven/Wingless Bird/I'm Ready//Spread 'Em All Around/Into The Night

SP 4606 - Sailin' - Kim Carnes [1976] The Best Of You (Has Got The Best Of Me)/Warm Love/All He Did Was Tell Me Lies (To Try To Woo Me)/He'll Not Come Home/Sailin'//It's Not The Spotlight/Last Thing You Ever Wanted To Do/Let Your Love Come Easy/Tubin'/Love Comes From Unexpected Places

SP 4607 - Target - Target [1976] Love Just Won't Quit/Bad Boy/Let Me Live/Just A Little Too Much/Can't Fake It//99«/You Need A Woman/Let Me Down Easy/Workin' Song/Are You Ready

SP 4608 - Alessi - Alessi Brothers [1976] Do You Feel It?/You Can Have It Back/I Was So Sure/Big Deal (Live Without You)/Don't Hold Back//Too Long To Forget/Sad Songs/Oh, Lori/Joanna/Seabird/Do You Feel It? (Reprise)

*SP 4609 - There's Music In The Air - Letta Mbulu [1976] (3-77, #192) Ain't No Way To Treat A Lady/Feelings/Let's Go dancing/Maru A Pula (Clouds Of Rain)/Music Man/Rainy Day Music/Sacred Drum/There's Music In The Air/Tristeza (Reuniao De Tristeza)/You've Lost That Lovin' Feeling

SP 4610 - Play 'N' The Game - Nazareth [1976] (11-76, #75) Somebody To Roll/Down Home Girl/Flying/Waiting For The Man//Born To Love/I Want To Do Everything For You/I Don't Want To Go On Without You/Wild Honey/L.A. Girls

*SP 4611 - Milton - Milton Nascimento [1976] Cravo E Canela/Fairy Tale Song (Cade)/Francisco/Nada Sera Como Antes/One Coin (Tostao)/Os Povos (The People)/Ra a/Saidas E Bandeiras (Exits And Flags)/The Call (Chamada)

*SP 4612 - Main Squeeze - Chuck Mangione [1976] (11-76, #86) (Day After) Our First Night Together/Doin' Everything With You/I Get Crazy (When Your Eyes Touch Mine)/If You Know Me Any Longer Than Tomorrow/Love The Feelin'/Main Squeeze

SP 4613 - I Hear The Music - England Dan & John Ford Coley [1976] Used To You/Tell Her Hello/New Jersey/Idolizer/Mud and Stone //I Hear the Music/Legendary Captain/Miss Me/The Pilot/Carry On

SP 4614 - White Rock - Rick Wakeman [1977] (2-77, #126) White Rock/Searching For Gold/The Loser/The Shoot//Lax-X/After The Ball/Montezuma's Revenge/Ice Run

SP 4615 - Piper - Piper [1977] Out Of Control/Whatcha Gonna Do/The Road/Sail Away//Who's Your Boyfriend? (I Got A Feelin')/Telephone Relation/The Last Time/42nd Street/Can't Live With Ya-Can't Live Without Ya

SP 4616 - Anytime... Anywhere - Rita Coolidge [1977] (4-77, #6) (Your Love Has Lifted Me) Higher And Higher/The Way You Do The Things You Do/We're All Alone/I Feel The Burden (Being Lifted Off My Shoulders)/I Don't Want To Talk About It//Words/Good Times/Who's To Bless And Who's To Blame/Southern Lady/The Hungry Years

SP 4617 - Sweet Bird - Lani Hall [1977]

SP 4618 - Bandolier - Budgie [1977] Breaking All The House Rules And Learning All The House Rules/Slipaway-A Parrot Fashion Ball/Who Do You Want For Your Love?-Never Turn Your Back On A Friend//I Can't See My Feelings-Rock Climbing/I Ain't No Mountain/Napoleon Bona (Part One-Part Two)/Napoleon Bona (Part Three)

SP 4619 -

SP 4620 - Love On The Airwaves - Gallagher & Lyle [1977] Love On The Airwaves/The Runaway/Every Little Teardrop/Had To Fall In Love/Street Boys//Never Give Up On Love/Dude In The Dark/Head Talk/Call For The Captain/It Only Hurts When I Laugh

SP 4621 - Gap Mangione - Gap Mangione [1977]

SP 4622 - Futures - Burt Bacharach [1977] I Took My Strength From You/Futures/Us/Where Are You/We Should Have Met Sooner/No One Remembers My Name/The Young Grow Younger Every Day/Another Spring Will Rise/Seconds/When You Bring Your Sweet Love To Me/Time And Tenderness

SP 4623 - Hard Nutz - Nutz [1977] Seeing Is Believing/I Know The Feeling/Loser/From Here To Anywhere/Wallbanger//Pushed Around/Beast Of The Field/Sick And Tired/Down On My Knees/One More Cup Of Coffee

SP 4624 - Gettin' Lucky - Head East [1977] (4-77, #136) Gettin' Lucky/Back In My Own Hands/Show Me I'm Alive/Take It On Home/Dancer Road//Don't Let Me Sleep In The Morning/Sands Of Time/Call To Arms And Legs/Time Has A Way/Every Little Bit Of My Heart

SP 4625 - A Place In The Sun - Pablo Cruise [1977] (3-77, #19) A Place In The Sun/Whatcha Gonna Do?/Raging Fire/I Just Wanna Believe/Tonight My Love//Can You Hear The Music?/Never Had A Love/Atlanta June/El Verna

*SP 4626 - Roots - Quincy Jones [1977] (2-77, #21) Behold, The Only Thing Greater Than Yourself (Birth)/Boyhood To Manhood/Free At Last? (The Civil War)/Jumpin' De Broom (Marriage Ceremony)/Many Rains Ago (Oluwa)/Many Rains Ago (Oluwa)/Middle Passage (Slaveship Crossing)/Motherland/Oh Lord, Come By Here/Ole Fiddler/Roots Medley/Roots (Mama Aifambeni), Main Title/Toubob Is Here! (The Capture)/What Shall I Do? (Hush, Hush, Somebody's Calling My Name)/You In Americuh Now, African

SP 4627 - Herb Alpert & The T.J.B. Greatest Hits Vol. 2 - Herb Alpert & T.J.B. [1977] What Now My Love/The Work Song/Brasilia/Jerusalem/So What's New/Last Tango In Paris/My Favorite Things//This Guy's In Love With You/A Banda/Flamingo/Cabaret/Zazueira/Bitersweet Samba/Wade In The Water

SP 4628 - I Came To Dance - Nils Lofgren [1977] (3-77, #36) I Came To Dance/Rock Me At Home/Home Is Where The Hurt Is/Code Of The Road//Happy Ending Kids/Goin' South/To Be A Dreamer/Jealous Gun/Happy

SP 4629 - Ghost Writer - Garland Jeffreys [1977] (3-77, #140) Rough And Ready/I May Not Be Your Kind/New York Skyline/Cool Down Boy/Ghost Writer//Lift Me Up/Why-O/Wild In The Streets/35 Millimeter Dreams/Spanish Town

SP 4630 - Never Too Tender - Offenbach [1977]

SP 4631 - Two Days Away - Elkie Brooks [1977] Love Potion No. 9/Spiritland/Honey, Can I Put On Your Clothes/Sunshine After The Rain/Pearl's A Singer//Mojo Hannah/Do Right Woman, Do Right Man/You Did Something To Me/Night Bird/Saved

SP 4632 - Now - Tubes [1977] (5-77, #122) Smoke (La Vie En Fum'r)/Hit Parade/Strung Out On Strings/Golden Boy/My Head Is My Only House Unless It Rains//God-Bird-Change/I'm Just A Mess/Cathy's Clone/This Town/Pound Of Flesh/You're No Fun

SP 4633 -

SP 4634 - Even In The Quietest Moments... - Supertramp [1977] (4-77, #16) Give A Little Bit/Lover Boy/Even In The Quietest Moments/Downstream//Babaji/From Now On/Fool's Overture

SP 4635 - A Simpler Time - Michael Katakis [1977] As The First Time/Rainbow Song/New England Lullabye/The Dance/Tragedy In Mime//A Simpler Time/I Was So Sure/I Got No Lights/We Are All Dancers/Old People's Home/Seasons

SP 4636 - Five Times The Sun - Dingoes [1977]

SP 4637 - The Grand Illusion - Styx [1977] (7-77, #6) The Grand Illusion/Fooling Yourself (The Angry Young Man)/Superstars/Come Sail Away//Miss America/Man In The Wilderness/Castle Walls/The Grand Finale

SP 4638 - .38 Special - .38 Special [1977] (5-77, #148) Long Time Gone/Fly Away/Around And Around/Play A Simple Song/Gypsy Belle//Four Wheels/Tell Everybody/Just Hang On/Just Wanna Rock And Roll

*SP 4639 - Ports - Perry Botkin, Jr. [1977] Bridges/Don't Believe The Laughter/Eternal Sunrise/Gymnopedies No. 1/Lady Ice/Looking For Home/Lovers/Low Tide/Nadia's Theme-Bless The Beasts And Children/Ports/You've Gone Away

SP 4640 -

SP 4641 - Mirage - Richie Havens [1977] Live It Up (One Time)/Shadows Of The Past/I Don't Complain/Touch The Sky/Billy John//We All Wanna Boogie/Avalon/Aviation Man/Nobody Left To Crown/The End

SP 4642 -

*SP 4643 - Hot Tracks - Nazareth [1977] (7-77, #120) Born To Love/Broken Down Angel/Carry Out Feelings/Go Down Fighting/Hair Of The Dog/I Want To Do Everything For You/Love Hurts/My White Bicycle/Razamanaz/Shanghai'd In Shanghai/This Flight Tonight/Vancouver Shakedown

*SP 4644 - Right On Time - Brothers Johnson [1977] (5-77, #13) Brother Man/Free Yourself, Be Yourself/Love Is/Never Leave You Lonely/Q/Right On Time/Runnin' For Your Lovin'/Strawberry Letter 23

SP 4645 - No Accidents - Driver [1977]

*SP 4646 - Something To Love - L.T.D. [1977] (8-77, #21) Age Of The Showdown/(Every Time I Turn Around) Back In Love Again/If You're In Need/Make Someone Smile, Today!/Material Things/Never Get Enough Of Your Love/We Party Hearty/(Won't Cha) Stay With Me/You Come First At Last

SP 4647 - At The End Of A Perfect Day - Chris De Burgh [1977] Broken Wings/Round And Around/I Will/Summer Rain/Discovery//Brazil/In A Country Churchyard (Let Your Love Shine On)/A Rainy Night In Paris/If You Really Love Her, Let Her Go/Perfect Day

SP 4648 - IV (Rattus Norvegicus) - Stranglers [1977] Sometimes/Goodbye Toulouse/London Lady/Princess Of The Streets/Hanging Around//Peaches/(Get A) Grip (On Yourself)/Ugly/Down In The Sewer (Falling-Down In The Sewer-Trying To Get Out Again-Rats Rally)

SP 4649 - Coming Outta Nowhere - Malcolm Tomlinson [1977] Cut Across Country Ride/Rolling All Over/Fiddler's Green/I'm Going Home/Erica Leigh/Knocking My Head/Hard At It/Drop Me A Line/San Fernando/Celebrate It

*SP 4650 - Spaced - Shawn Phillips [1977] All Your Love/From All Of Us/I Don't Want To Leave You, I Just Came To Say Goodbye/Italian Phases/Light From Between Your Eyes/Parisian Plight I/Prelude To A Leaving/Rant/Stranded

SP 4651 - Victim Of Romance - Michelle Phillips [1977] Aching Kind/Let The Music Begin/Victim Of Romance/Trashy Rumors/There She Goes//Paid The Price/Baby As You Turn Away/Lady Of Fantasy/Just One Look/Where's Mine

SP 4652 - Captured - Target [1977] It's Only Love/Shine The Light/Runaway/Just For You//Maybe In Time/Make Our Dreams Come True/Holdin' On/Rock And Roll Laureate

*SP 4653 - Earthdance - Paul Winter [1977] Africanus Brasileiras Americanus/Ballad In 7-8/Big Hug (Un Abraco)/Fantasy, Fugue And Ghost Beads/General Pudson's Entrance/Icarus/Jenny/Little Train Of The Caipira/My Horse Knows The Way

SP 4654 - Can't Wait - Piper [1977] Can't Wait/Drop By And Stay/See Me Through/Little Miss Intent/Now Ain't The Time//Bad Boy/Comin' Down Off Your Love/Anyday/Blues For The Common Man

*SP 4655 - Ruby, Ruby - Gato Barbieri [1977] (10-77, #66) Adios/Blue Angel/Latin Reaction/Midnight Tango/Ngiculela-Es Una Historia-I Am Singing/Nostalgia/Ruby/Sunride

SP 4656 - A Whole New Thing - Billy Preston [1977] Whole New Thing/Disco Dancin'/Complicated Sayings/Attitudes (Instrumental)/I'm Really Gonna Miss You//Wide Stride (Instrumental)/You Got Me Buzzin'/Sweet Marie/Happy (Instrumental)/Touch Me Love/You Don't Have To Go

SP 4657 - All For A Reason - Alessi [1977] Love To Have Your Love/All For A Reason/Farewell/Avalon/Air Cushion/London//Hate To Be In Love/You Can Crowd Me/Make It Last/Here Again

*SP 4658 - Feels So Good - Chuck Mangione [1977] (10-77, #2) XIth Commandment/Feels So Good/Hide And Seek/Last Dance/Maui-Waui/Theme From Side Street

SP 4659 - No More Heroes - Stranglers [1977] I Feel Like A Wog/Bitching/Dead Ringer/Dagenham Dave/Bring On The Nubiles/Something Better Change//No More Heroes/Peasant In The Big Shitty/Burning Up Time/English Towns/School Mam

SP 4660 - Rick Wakeman's Criminal Record - Rick Wakeman [1977] (12-77, #128) Statue Of Justice/Crime Of Passion/Chamber Of Horrors//Birdman Of Alcatraz/The Breathalyser/Judas Iscariot

SP 4661 - Diamond Nights - Hummingbird [1977]

SP 4662 - Don't Look Down - Ozark Mountain Daredevils [1977] (11-77, #132) River To The Sun/Crazy Lovin'/Giving It All To The Wind/The Fox/Backroads//Snowbound/Following The Way That I Feel/Love Makes The Lover/True Believer/Moon On The Rise/Stinghead (Instr.)

SP 4663 - Show Some Emotion - Joan Armatrading [1977] (10-77, #52) Woncha Come On Home/Show Some Emotion/Warm Love/Never Is Too Late/Peace In Mind/Opportunity/Mama Mercy/Get In The Sun/Willow/Kissin' And A Hugin'

SP 4664 - A Pauper In Paradise - Gino Vannelli [1977] (11-77, #33) Mardi Gras/Valleys Of Valhalla/The Surest Things Can Change/One Night With You/A Song And Dance//Black And Blue/A Pauper In Paradise (In Four Movements)

SP 4665 - Supertramp - Supertramp [1978] (3-78, #158) Reissue of A&M SP 4274. Surely/It's A Long Road/Aubade-And I Am Not Like Other Birds Of Prey/Words Unspoken/Maybe I'm A Beggar/Home Again//Nothing To Show/Shadow Song/Try Again/Surely

SP 4666 - Expect No Mercy - Nazareth [1977] (11-77, #82) Expect No Mercy/Gone Dead Train/Shot Me Down/Revenge Is Sweet/Gimme What's Mine//Kentucky Fried Blues/New York Broken Toy/Busted/Place In Your Heart/All The King's Horses

*SP 4667 - Captain & Tennille's Greatest Hits - Captain & Tennille [1977] (12-77, #55) Can't Stop Dancin'/Circles/Come In From The Rain/Disney Girls/I Write The Songs/Lonely Night (Angel Face)/Love Will Keep Us Together/Muskrat Love/Shop Around/The Way I Want To Touch You/We Never Really Say Goodbye/Wedding Song (There Is Love)

*SP 4668 - The Best Of John C. Baez - Joan C. Baez [1977] (12-77, #121) Children And All That Jazz/Diamonds And Rust/Forever Young/Gracias A La Vida (Here's To Life)/Imagine/Love Song To A Stranger/Never Dreamed You'd Leave In Summer/Please Come To Boston/Prison Trilogy (Billy Rose)/Simple Twist Of Fate/Sweeter For Me/The Night They Drove Old Dixie Down

SP 4669 - Road Songs - Hoyt Axton [1977] No No Song/Boney Fingers/In A Young Girl's Mind/Telephone Booth/Paid In Advance/Lion In The Winter//I Love To Sing/When The Morning Comes/Lay, Lady, Lay/Sweet Misery/Flash Of Fire/Less Than The Song

*SP 4670 - Joe Cocker's Grestest Hits - Joe Cocker [1977] (12-77, #114) Black Eyed Blues/Cry Me A River/Darling Be Home Soon/Delta Lady/Feeling Alright/High Time We Went/I Think It's Going To Rain Today/Jealous Kind/The Letter/With A Little Help From My Friends/Woman To Woman/You Are So Beautiful

SP 4671 - Hometown Band - Hometown Band [1977] What Would I Do/Feel Good/Just A Moment/Let The Music Play/Never Ending Tomorrows//Daybreak/Sweet Emma/Song For A Dreamer/Halleluja, Do Ya...

SP 4672 -

SP 4673 - Touch Me - Cory Wells [1978] Waiting For You/When You Touch Me This Way/You're My Day/Everything's Right For Love/Midnight Lady (Hiding In The Shadows)//Starlight/Throw A Little Bit Of Love My Way/I Know You're Willin' Darlin'/Change Of Heart/Lady Put The Light Out

SP 4674 - Wondergap - Wondergap [1978]

SP 4675 - Impeckable - Budgie [1978] Melt The Ice Away/Love For You And Me/All At Sea/Dish It Up/Pyramids//Smile Boy Smile/I'm A Faker Too/Don't Go Away/Don't Dilute The Water

SP 4676 -

SP 4677 - Spinozza - David Spinozza [1978] Prelude To the Ballerina/The Ballerina/Doesn't She Know By Now/Airborne/On My Way to the Liquor Store/Edge of the Sword/Country Bumpkin/High Button Shoes/Superstar

SP 4678 - Randy Richards - Randy Richards [1978] This features the usual LA studio musicians (Kunkel, Haskell, Korchmar, Keltner, etc.) but also features Steve Cropper on several tracks and one track with Eric Carmen on piano. There's Always a Goodbye/Just Be You/I Can't Stop Loving You/Money Doesn't Make You Nice/Spaceman//Any Way That You Want Me/Inside Of Me/Ride/Sweet Sympathy/Silver Bullets

SP 4679 - Showdown - Gallagher & Lyle [1978] Showdown/In Your Eyes/You're The One/Hurts To Learn/It's Over//Heartbreaker/Backstage/All Grown Up/Throw-Away Heart/Next To You

SP 4680 - Head East - Head East [1978] (3-78, #78) Open Up The Door/Man I Wanna Be/Nothing To Lose/Since You Been Gone/Pictures//Get Up And Enjoy Yourself/I'm Feelin' Fine/Dance Away Lover/Elijah

SP 4681 - One-Eyed Jack - Garland Jeffreys [1978] (4-78, #99) She Didn't Lie/Keep On Tryin'/Reelin'/Haunted House/One-Eyed Jack//Scream In The Night/No Woman No Cry/Oh My Soul/Desperation Drive/Been There And Back

SP 4682 - Grand Arrival - Bryn Haworth [1978] Come See What Love/Nothing Without Love/Woman Friend/Moments/We're All One//Grand Arrival/Sing To The Lord/Full Day/Summer Wine/Beans On Toast

*SP 4683 - It's Just A Lifetime - Craig Nuttycombe [1978] It's Just A Lifetime/It's Much Easier/Malibu Bay/My Singing Mudlark/Rainy Eyes/So Close For Being Far Away/Sunny Carmel Valley Day/Sunshine/When My Time Comes/Without Any Hold

SP 4684 - Special Delivery - .38 Special [1978] I'm A Fool For You/Turnin' To You/Travelin' Man/I Been A Mover//What Can I Do/Who's Been Messin'/Can't Keep A Good Man Down/Take Me Back

*SP 4685 - Sounds... And Stuff Like That!! - Quincy Jones [1978] (6-78, #15) I'm Gonna Miss You In The Morning/Love, I Never Had It So Good/Love Me By Name/Stuff Like That/Superwoman (Where Were You When I Needed You)/Takin' It To The Streets/Tell Me A Bedtime Story

*SP 4686 - You're OK, I'm OK - Billy Swan [1978] Bloodstream/Forever In Your Love/Hello Remember Me/Let The Rain Keep Fallin'/Lonely Avenue/Never Go Lookin' Away/No Way Around It (It's Love)/Please Help Me, I'm Falling/That's America/You Make My Soul Rock 'N' Roll/You're OK, I'm OK

SP 4687 - U.K. Squeeze - Squeeze [1978] Also issued in red vinyl. Sex Master/Bang Bang/Strong In Reason/Wild Sewerage Tickles Brazil/Out Of Control/Take Me, I'm Yours//The Call/Model/Remember What/First Thing Wrong/Hesitation (Rool Brittania)/Get Smart

SP 4688 - Letta - Letta Mbulu [1978] Open Up Your Heart/Buza (There's a Light At the End of a Tunnel)/I Need You/Baile Baneso //I Can Depend on You/Hareje/Mamani

SP 4689 - New Day - Airwaves [1978] Love Stop/Let Me In/The Cat/Keep Away The Blues/Hope You Won't/You Are The New Day//So Hard Living Without You/Nobody Is/Hideaway/Don't Let The Daylight In/Go Better

SP 4690 - Natural Act - Kris Kristofferson & Rita Coolidge [1978] (2-79, #106) Also issued as a picture disc. Blue As I Do/Not Everyone Knows/I Fought The Law/Number One/You're Gonna Love Yourself (In The Morning)/Loving You Was Easier (Than Anything I'll Ever Do Again)//Back In My Baby's Arms/Please Don't Tell Me How The Story Ends/Hoola Hoop/Love Don't Live Here Anymore/Silver Mantis

SP 4691 -

SP 4692 - Three's A Crowd - Tarney-Spencer Band [1978] (7-78, #174) Bye Bye Now My Sweet Love/Takin' Me Back/It's Really You/We Believe In Love/Maybe I'm Right//I Can Hear Love/Set The Minstrel Free/Magic Still Runs Through Your Head/Capital Shame/Easier For You

SP 4693 - Smitty - William D. Smith [1978] Sweetie Pie/Where Did You Come From/Midnight Eyes/Genevieve/Right Feeling At The Wrong Time//Girl Of A 1,000 Dreams/Waiting Just For You/Forgive A Fool In Love/Special Person/This And That

SP 4694 - Suite Lady - Gap Mangione [1978]

SP 4695 - Shooting Star - Elkie Brooks [1978] Only Love Can Break Your Heart/Be Positive/Since You Went Away/Putting My Heart On The Line/Stay With Me//As/Learn To Love/Too Precious/Shooting Star/Just An Excuse

*SP 4696 - She Loves to Hear the Music - Sylvia Sims [1978] After The Lovin'/I'm In You/If You Really Love Me/It Had To Be You/She Loves To Hear The Music/Sweet Georgia Brown/Teach Me Tonight/Touch Me In The Morning/When It Was Done

SP 4697 - Worlds Away - Pablo Cruise [1978] (6-78, #6) Worlds Away/Love Will Find A Way/Family Man/Runnin'//Don't Want To Live Without It/You're Out To Lose/Always Be Together/Sailing To Paradise/I Go To Rio

*SP 4698 - Common Ground - Paul Winter [1978] Ancient Voices (Nhmamusasa)/Common Ground (Velho Sermao)/Duet/Eagle/Icarus/Lay Down Your Burden/Midnight (Minuit)/Ocean dream/The Promise Of A Fisherman (Iemanja)/Trilogy/Trio/Wolf Eyes

SP 4699 - Love Me Again - Rita Coolidge [1978] (6-78, #32) You/Slow Dancer/Sweet Inspiration/Love Me Again/It Just Keeps You Dancin'//Bye Bye, Love/The Jealous Kind/Hello Love, Goodbye/You're So Fine/Songbird


Thanks to Gert Nielsen, Eamonn Keane, Brenda Weaver-Kingsley, and Danny Howgain.




Back to the A&M Records Story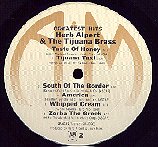 Back to the A&M Discography, Part 5 SP 4500-4599 (1975-76)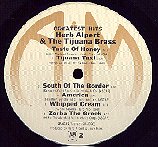 On to the A&M Discography, Part 7 SP 4700-4799 (1977-80)



Back to the Discography Listings Page



Back to the Both Sides Now Home Page