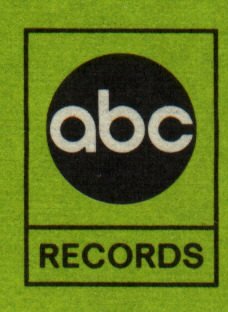 ABC-Paramount Album Discography, Part 10
AB 1000-AY 1141 (1976-1979)
By David Edwards, Patrice Eyries, and Mike Callahan
Last update: November 5, 2005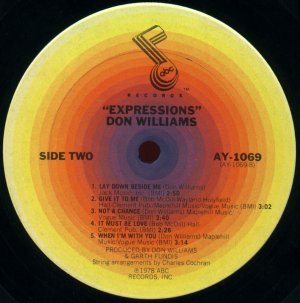 The fifth label had a purple center which graduated to a gold outer circle. The printing on the label was black. The ABC logo was white in a black circle. This label was used from approximately number 830 to 1090.

The sixth label was the same background with a 1/8th note with the ABC logo in it. The label was used from approximately number 1090 to the end of the label in 1979.

We would appreciate any additions or corrections to this discography. Just send them to us via e-mail. Both Sides Now Publications is an information web page. We are not a catalog, nor can we provide the records listed below. We have no association with ABC-Paramount, ABC, or MCA Records. Should you be interested in acquiring albums listed in this discography (all of which are out of print), we suggest you see our Frequently Asked Questions page and follow the instructions found there. This story and discography are copyright 2002, 2005 by Mike Callahan.



ABC-PARAMOUNT LABEL ALBUM DISCOGRAPHY, Part 10

Number - Title - Artist [Release Date] Contents

AB 1000 - Avalanche - Avalanche [1976] Bermuda Triangle/Wizard Of Love/Annie/Overnight Sensation/Tie Your Laces/Landslide//Bar Room Ladies/Spark In The Dark/Closer To Love/Something I Need/Sweet Baby Brown Eyes

AB 1001 - Especially For You - Al Hudson & The Soul Partners [1977] I Got A Notion You Got The Motion/Real Love/You'reSo Wonderful/Feelings//Baby Let Me Love You/Trying To Prove My Love/Disco Lover/Let's Disco/When Something Is Wrong With My Baby

AB 1002 - Genuine Ruby - Ruby Andrews [1977] Queen of The Disco/A Love Feeling/My Imaginary Eye/A Change Is Gonna Come//A Little Fixin' Up (Will Keep Him From Messin' Up)/Let's Make Every Second A Memory/Merry-Go-Round/Cinderfella/I Wanna Be Near You

AB 1003 - Bautista - Roland Bautista [1977] Destination/Make Your Own Music/Gone/Diggin' It In//Tears From My Rainbow/Chanson A Denise/Vida Life/Manifestation

AB 1004 - Your Arms Too Short to Box With God (Original Cast) - Salome Bey, Clinton Derricks-Carroll, Sheila Ellis and Delores Hall [5/77]

AB 1005 - Toucan Do It Too - Amazing Rhythm Aces [1977] (4-77, #114) Never Been To The Islands/Never Been Hurt/Living In A World Unknown/Everybody's Talked Too Much/Last Letter Home/Who's Crying Now/Just Between You And Me And The Wall, You're A Fool/I'm Setting You Free/Geneva's Lullaby/You Can Do It Too

AA 1006 - Aja - Steely Dan [1977] (10-77, #3) Black Cow/Aja/Deacon Blues//Peg/Home At Last/I Got The News/Josie

* AB 1007 - Lifestyle (Living And Loving) - John Klemmer [1977] (6-77, #51) Caress/Forever/Lifestyle/Lovin' Feelings/Pure Love/Purity/Quiet Afternoon/Tough And Tender

AK 1008-2 - You Had To Be There - Jimmy Buffett [1978] (11-78, #72) Two record set. Son Of A Son Of A Sailor/Dialogue/Pencil Thin Mustache/Dialogue/Wonder Why We Ever Go Home/Landfall/Dialogue/Miss You So Badly//Dialogue/Havana Daydreamin'/Dialogue/Margaritaville/Dialogue/Changes In Latitudes, Changes In Attitudes/Dialogue/Come Monday/Dialogue/Perrier Blues//Dialogue/Grapefruit-Juicy Fruit/Dialogue/God's Own Drunk/Dialogue/He Went To Paris/Dialogue/The Captain And The Kid//Dialogue/Why Don't We Get Drunk (And Screw)/Dialogue/A Pirate Looks At Forty/Dialogue/Tampico Trauma/Dialogue/Morris' Nightmare/Dixie Diner/Dialogue

AB 1009 - Family Ties - Faragher Brothers [1977] Thanks A Lot/You're Making A Good- Bye Bad/Life Is Love/I'm Wakin' Up//He Wants To See You/Follow My Heart/Don't I Know/Fool In Love/You Know That

AB 1010 - Shake It Well - Dramatics [1977] (8-77, #60) Shake It Well/You Make The Music (I Just Dance Along)/My Ship Won't Sail Without You/Come Inside//Spaced Out Over You/That Heaven Kind Of Feeling/(I Like) Makin' You So Happy/Ocean Of Thoughts And Dreams/Music Is Forever

AB 1011 - Universal Child - Dianne Steinberg [1977]

1012 -

1013 -

AB 1014 - The Show Must Go On - Four Tops [1977] The Show Must Go On/I Can't Live Without You/Save It For A Rainy Day/Runnin' From Your Love//See The Real Me/Love Is A Joy/You'll Never Find A Better Man/Candy

AB 1015 - Brand New Day - Blood, Sweat & Tears Featuring David Clayton-Thomas [1977] Somebody I Trusted (Put Out The Light)/Dreaming As One/Same Old Blues/Lady Put Out The Light/Womanizer//Blue Street/Gimme That Wine/Rock And Roll Queen (A Tribute To Janis Joplin)/Don't Explain

AB 1016 - Richard Tate - Richard Tate [6/77]

AA 1017 - Levon Helm & The RCO All-Stars - Levon Helm & The RCO All-Stars [1977] (11-77, #142) Washer Woman/The Tie That Binds/You Got Me/Blues So Bad/Sing, Sing, Sing (Let's Make A Better World)//Milk Cow Boogie/Rain Down Tears/A Mood I Was In/Havana Moon/That's My Home

AB 1018 - Reflections In Blue - Bobby Bland [1977] (5-77, #185) The Soul Of A Man/I'll Be Your Fool Once More/Sittin' On A Poor Man's Throne/I Intend To Take Your Place/It Ain't The Real Thing//It's All Over/If I Weren't A Gambler/Five Years Long/I Got The Same Old Blues

1019 -

AB 1020 - Big Daddy's Place - Wayne Henderson [1977] Keep On Keepin' On/Reggae Disco/Foot Stompin' Music/Big Daddy's Place//Lush Life/Lady Bug/I'm Staying Forever

AB 1021 - Yes We Have No Mananas (So Get Your Mananas Today) - Kevin Ayers [1977] Star/Mr. Cool/The Owl/Love's Gonna Turn You Round/Falling In Love Again//Help Me/Ballad Of Mr. Snake/Everyone Knows The Song/Yes I Do/Blue

AB 1022 - Eloise - Eloise Laws [1977] (2-78, #156) Baby You Lied/His House And Me/1,000 Laughs/Someone Who Still Needs Me/Love Is Feeling//Number One/You're Incredible/Love Comes Easy/Forever Now

* AB 1023 - Choosing You - Lenny Williams [1977] (8-77, #99) Choosing You/I've Been Away From Love Too Long/Look Up With Your Mind/Please Don't Tempt Me/Problem Solver/Riding The High Wire/Shoo Doo Fu Fu Ooh!/Trust In Me

1024 -

1025 -

AB 1026 - The Two Of Us - Marylin McCoo & Billy Davis Jr. [1977] (8-77, #57) Look What You've Done To My Heart/Wonderful/My Reason To Be Is You/My Very Special Darling//Nightsong/The Times/The Two Of Us/In My Lifetime/Hard Road Down

AB 1027 - The Bitch Is Bad! - Denise Lasalle [1977] The Bitch Is Bad/Love Me Right/Before You Take It To The Streets/Fool Me Good//Move Your Body/A Love Magician/One Life To Live/Love Addict

1028 -

1029 -

AB 1030 - Floaters - Floaters [1977] (6-77, #10) Float On/You Don't Have To Say You Love Me/Got To Find A Way//I Bet You Get The One You Love/Everything Happens For A Reason/Take One Step At A Time/No Stronger Love/I Am So Glad I Took My Time

AA 1031 - Song For A Young Girl - Paul Parrish [1977]

AA1032 - All About Love - Younghearts [1977] Let's Fall In Love Again/Sho' Nuff Must Be Love/LoveFor Love/Queen Of My Heart/Back Street Love Affair//Number One Attraction/Make A Little Wish/Didn't I Give You Love/Ghost Town/If

AA 1033 - Nights - Nights [1977]

1034 -

AA 1035 - Cherish - Al Hudson & The Soul Partners [1977]

AB 1036 - The Wonder Of It All - Tompall Glaser [10/77] It Never Crossed My Mind/Bad Times/What Are We Doin' With The Rest Of Our Lives?/How I Love Them Old Songs?/On Second Thought//Drinking Them Beers/My Mother Was A Lady/Duncan And Brady/Easy On My Mind/Wonder Of It All

AA 1037 - Sky's The Limit - Rhythm Heritage [1978] Sail Away With Me/Had To Fall In Love/Skippin'/Language Of Love//Theme From Starsky And Hutch/Holdin' Out (For Your Love)/Hedge Hog/Float On By/Sky's The Limit

AB 1038 - Live And Direct - Mighty Clouds Of Joy [1977]

* AB 1039 - A Hard Core Package - John Mayall [1977] An Old Sweet Picture/Arizona Bound/Disconnected Line/Do I Please You/Give Me A Chance/Goodnight Dreams/Make Up Your Mind/Now And Then/Rock And Roll Hobo/The Last Time

1040 -

AB 1041 - Now Is The Time - Harold Melvin & The Blue Notes [1977] Where's The Concern For The People/Baby, You Got My Nose Open/Let's Talk It Over/Feels Like Magic//Now Is The Time/Power Of Love/Today, Tomorrow, Forever/Try To Live A Day

AA 1042 - Crosby/Nash - Live - Crosby & Nash [1977] (11-77, #52) Immigration Man/The Leeshore/I Used To Be A King/Page 43/Fieldworker//Simple Man/Foolish Man/Mama Lion/D'j… Vu

AA 1043 - Berkshire - Wha-Koo [1978] Rig-A-Marole/Fat Love/Mother Of Pearl/Midnight Kitchen/(You're Such A) Fabulous Dancer//Berkshire/I'm Here/Expire On Me/Dreaming As One

AB 1044 - Washington: Behind Closed Doors (TV Soundtrack) - Dominic Frontiere [1977] Washington: Behind Closed Doors (Main Title)/Love Theme/Behind Closed Doors Disco/Paint My Love Blue/Jamaican Holiday//Pennsylvania Avenue/Embassy Row/White House Lawn Party/American Nation Song/March Of The Elephants

AA 1045 - Lawrence Hilton Jacobs - Lawrence Hilton Jacobs [1977]

AA 1046 - Son Of A Son Of A Sailor - Jimmy Buffett [1978] (4-78, #10) Son Of A Son Of A Sailor/Fool Button/The Last Line/Livingston Saturday Night/Cheeseburger In Paradise//Coast Of Marseilles/Cowboy In The Jungle/Manana/African Friend

AA 1047 - Magic - Floaters [1978] (4-78, #131) Magic (We Thank You)/I Dedicate My Love To You/The Time Is Now//What Ever Your Sign/Let's Try Love (One More Time)/Anything That Keeps You Satisfied/I Just Want To Be With You

AA 1048 - Night People - Lee Dorsey [1978] Say It Again/God Must Have Blessed America/Soul Mine/Keep On Doing It To Me/Thank You//Night People/Can I Be The One/Babe/Draining

AA 1049 - Street Player - Rufus featuring Chaka Khan [1978] (2-78, #14) Street Player/Stay/Turn/Best Of Your Heart/Finale//Blue Love/Stranger To Love/Take Time (Instrumental)/Destiny/Change Your Ways

* AA 1050 - Rainbow Seeker - Joe Sample [1978] (2-78, #62) As Long As It Lasts/Fly With Wings Of Love/In All My Wildest Dreams/Islands In The Rain/Melodies Of Love/Rainbow Seeker/There Are Many Stops Along The Way/Together We'll Find A Way

AB 1051 - Hang On Feelin' - Red Steagall [1978]

AA 1052 - Shoot The Moon - Carter Robertson [1978] Something's Up (Love Me Like The First Time)/Stuck In Chicago/Tonight I'll Shoot The Moon/You Are Everything/Didn't Wanna Hurt Cha For Another Guy//Shelter/Early Morning Smile/By Your Side/Who Will The Next Fool Be/I'm Through With You

AB 1053 - Labor Of Love - Roy Clark [4/78] Reissued as MCA 675. Must You Throw Dirt In My Face/Shoulder To Shoulder/Happy Days/Southern Nights/Love Is A Beautiful Song// Where Have You Been All Of My Life/Me And The Elephant /One Of These Days/It Was Almost Like A Song/Love For All Seasons

AB 1054 - Tonight's The Night - Roy Head [5/78] Now You See Em, Now You Don't/She's The Shadow Of Jane/The Lady In My Room/Don't You Love Her/Come To Me//Tonight's The Night (It's Gonna Be Alright)/Dixie/Pieces Of My Life/Smooth Whiskey/Love Survived

AA 1055 - Portrait - Tom Bresh [5/78] Smoke Smoke Smoke (That Cigarette)/If Everyone Was Happy/Ways Of A Woman In Love/Huckleberry Weekend/(others)

AA 1056 - Shine On Me - John Wesley Ryles [1977]

1057 -

AA 1058 - Before The Dance - Orleans [1977]

AA 1059 - The One And Only (Soundtrack) - Patrick Williams [1977] The One And Only - Kacey Cisyk/A Chance Encounter/Medley: Football March, Glory March/Which I Happen To Love/The Big Tour/Mary Questions/Second Thoughts/Hitting The Big Apple//The One And Only/Why Him/Kansas City Downer/Late Night Visit/Andy's Goodbye/Andy's Theme/The One And Only

AA 1060 - Good, Bad And Funky - Shotgun [1978] (4-78, #172) Good, Bad And Funky/Love Attack/Danger Of The Stranger/I Wish I Could See You Again//I'm All Strung Out/Sister Love/Fire It Up/Space-N/All Spaced Out (All Funked Up)

AA 1061 - Midnight Believer - B.B. King [1978] (5-78, #124) When It All Comes Down (I'll Still Be Around)/Midnight Believer/I Just Can't Leave Your Love Alone/Hold On (I Feel Your Love Is Changing)//Never Make A Move Too Soon/A World Full Of Strangers/Let Me Make You Cry A Little Longer

AA 1062 - Swamp Gold - Freddy Fender [1978]

AA 1063 - Burning The Ballroom Down - Amazing Rhythm Aces [1978] (4-78, #116) Burning The Ballroom Down/A Jackass Gets His Oats/Ashes Of Love/All That I Had Left (With You)/I Pity The Mother And The Father (When The Kids Move Away)//Della's Long Brown Hair/Out Of Control/Red To Blue (When Dreams Come True)/The Spirit Walk

* AA 1064 - Sex And Violins - Martin Mull [1978] (6-78, #157)Best Of You/Birds Gotta Swim (Vinyl Pt. I)/Cleveland (Revisited)/Dogs/Goodnight/Half Hour Of Heaven (And Eight Hours Of Sleep)/I Haven't Got The Vegas Idea/I'll Do The Samba/Mother-In-Law Song/Trailer Waltz/Vinyl World (Part II)/Westward Hot

AY 1065 - Room Service - Oak Ridge Boys [1978] (6-78, #164) If You Can't Find Love/But I Do/Callin' Baton Rouge/It Could Have Been Ten Years Ago/Lots Of Matchbooks/If There Were Only Time For Love//Cryin' Again/I'll Be True To You/Come On In/Lay Down Your Sword And Shield/I Can Love You

AY 1066 - Better Me - Tommy Overstreet [12/78] Better Me/Cheater's Kit/Stolen Wine/I Can't Love Without You/If This Is Freedom (Then I Went Out)//Fadin' In Fadin' Out/I Wanna Be There When The Lovin' Starts/One Lives My Life (One Lives In My Heart)/Shadows Of Love/Nice Guys Always Finish Last

AB 1067 - Let Me Be the One - Randy Gurley [10/78] Let Me Be The One/Song For The Life I Have Found/I'll Never Get Over Loving You/Only Diamonds Are Forever/While I'm Here//Lovin' Somebody On A Rainy Day/Faithless Love/Let Me Be Your Baby/Old Memories/Heartbreaker

* AA 1068 - Arabesque - John Klemmer [1978] (6-78, #83) Arabesque/Desire/Falling/Love Affair/Mardi Gras/Nothing Will Ever Be The Same Again Forever/Paradise/Picasso/Walk In Love

AY 1069 - Expressions - Don Williams [1978] (1-79, #161) I Would Like To See You Again/You've Got A Hold On Me/Tears Of The Lonely/All I'm Missing Is You/Tulsa Time//Lay Down Beside Me/Give It To Me/Not A Chance/It Must Be Love/When I'm With You

1070 -

AA 1071 - Heat of the Wind - Roland Bautista [8/78]

AA 1072 - Do What You Wanna Do - Dramatics [1978] (5-78, #44) Why Do You Want To Do Me Wrong/Do What You Want To Do/Disco Dance Contest/California Sunshine//Jane/Stop Your Weeping/I Want You/Yo' Love (Can Only Bring Me Happiness)

AA 1073 - Spark Of Love - Lenny Williams [1978] (7-78, #87) I Still Reach Out/You Got Me Running/Midnight Girl/Think What We Have//'Cause I Love You/Changes/Half Past Love/Love Came And Rescued Me

1074 -

AA 1075 - Come Fly With Me - Bobby Bland [1978] (7-78, #185) Come Fly With Me/Lady Lonely/Night Games/To Be Friends/I'm Just Your Man//Love To See You Smile/You Can Count On Me/This Bitter Earth/Ain't God Something

AA 1076 - Pretty Baby (Soundtrack) - New Orleans Ragtime Orchestra [7/78] The Honey Swat Blues/Elite Syncopations/Heliotrope Bouquet/Pretty Baby/King Porter Stomp/Tiger Rag/Swipesy/Moonlight Bay/Heliotrope Bouquet (Orchestra Version)//Creole Belles/Shreveport Stomps/Winin' Boy Blues/After The Ball/Where Is My Wandering Boy Tonight?/Big Lip Blues/The Ragtime Dance/At A Georgia Camp Meeting/Buddy Bolden's Blues/Mamie's Blues

AA 1077 - Up the Downstairs - Wilson Williams [8/78] Up The Downstairs/Thank You For Loving Me/Take Me The Way I Am/Faith Will Bring It Home/Groovy Feelin'//Sho You Rite/I Like Being In Love With You/I Think It's Gonna Work Out Fine/All That Glitters Ain't Gold/The Greatest Story Ever Told

AY 1078 - Billy "Crash" Craddock Sings His Greatest Hits - Billy "Crash" Craddock [4/78] Rub It In/Broken Down In Tiny Pieces/Another Woman/There Won't Be Another Now/Ruby Baby/Think I'll Go Somewhere (And Cry Myself To Sleep)//Why Don't We Sleep On It/Easy As Pie/Knock Three Times/Walk Softly/Still Thinkin' Bout You/Don Juan

1079 -

AY 1080 - Inside Love - Narvel Felts [6/78] Reissued as MCA 699. Magic Moments/In The Still Of The Night/Love Won't Come My Way Again/Easy/Do You Want To Fly/Half Heaven Half Heartache/Save Me For The Last/Just Keep It Up And See What Happens/Lie To Me/That All Over Feeling

AA 1081 - Spreading Love - Al Hudson & The Soul Partners [1978]

AA 1082 - Bish - Stephen Bishop [1978] (9-78, #35) If I Only Had A Brain/Losing Myself In You/Looking For The Right One/Everybody Needs Love/Guitar Interlude/A Fool At Heart/What Love Can Do//Prelude/Vagabond From Heaven/Bish's Hideaway/Only The Heart Within You/Recognized/I've Never Known A Nite Like This/When I Was In Love

AA 1083 - The Best Of Joe Walsh - Joe Walsh [1978] (10-78, #71) Turn to Stone/Mother Says/Help Me Through the Night/Rocky Mountain Way//Meadows/County Fair/Funk #49 [James Gang]/Time Out/Walk Away [James Gang]

AY 1084 - Banjo Bandits - Roy Clark & Buck Trent [9/78] Earl's Breakdown/Bugle Call Rag/World Is Waiting For The Sunrise/John Cumberland Creek/Down Yonder//Jolly Ho Happy Hour/Black Mountain Rag/Beer Barrel Polka/Bluegrass Breakdown/Banjo Signal

AA 1085 - Night Dog - Danny Green [1978] Ask Her/Blue Lady/Stand With The Best/A Good Time Don't Come For Free/Final Showdown//Dreamin' Again/She Don't Want A Lover (She Just Need A Friend)/Take Me To The Islands/Slave Trader/Three Angels

AA 1086 - The Last Of The British Blues - John Mayall [1978]

AA 1087 - Under The Influence - Denise Lasalle [1978] P.A.R.T.Y. (Where It Is)/Feet Don't Fail Me/No Matter What They Say/Let's Stay This Way //Workin' Overtime/Underthe Influence/You Ought'a Thank Me/Talking 'Bout My Best Friend

* AB 1088 - Moods - Barbara Mandrell [1978] (5-79, #132) Don't Bother To Knock/Early Fall/I Believe You/I Feel The Hurt Coming On/(If Loving You Is Wrong) I Don't Want To Be Right/It's A Crying Shame/Just One More Of Your Goodbyes/No Walls, No Ceilings, No Floors/Pity Party/Sleeping Single In A Double Bed

AA 1089 - Levon Helm - Levon Helm [1978] Ain't No Way To Forget You/Driving At Night/Play Something Sweet/Sweet Johanna/I Came Here To Party//Take Me To The River/Standing On A Mountaintop/Let's Do It In Slow Motion/Audience For My Pain

1090 -

AA 1091 - Very Best of the Mighty Clouds of Joy - Mighty Clouds of Joy [10/78] Two record set.

AA 1092 - At The Top - Four Tops [1978] H.E.L.P./Bits And Pieces/Seclusion/Put It On The News//This House/Just In Time/Inside A Brokenhearted Man/When Your Dreams Take Wings And Fly

AA 1093 - The Trip is Over - Harold Melvin [11/78]

1094 -

AY 1095 - Brand New Hank - Hank Thompson [1978] Reissued as MCA 689. I'm Just Gettin' By/Dance With Me Molly/Sings Of Love/Through the Bottom Of The Glass/Have A Good Time//I Hear The South Callin' Me/Point Of No Return/Tony's Tank-up Drive-In Cafe/That Want You Need You Got To Have You Feelin'/World's Greatest Feelin'

AA 1096 - Back To The Midwest Night - Arlyn Gale [1978] Back To The Midwest Night/Take The Night Flight/Tiger On The Lawn/Sunrise On Sunset//Ronee/Suspicious Fires/She's Alright/Halfway To Hell

1097 -

AA 1098 - Numbers - Rufus [1979] (2-79, #81) Ain't Nobody To Flame/You're To Blame/Keep It Together (Declaration Of Love)/Dancin' Mood/Red Hot Poker (Instrumental)//Don't You Sit Alone/Bet My Dreams/Pleasure Dome/Are We?/Life In The City

AA 1099 - Legend - Poco [1978] (11-78, #14) Boomerang/Spellbound/Barbados/Little Darlin'/Love Comes Love Goes//Heart Of The Night/Crazy Love/The Last Goodbye/Legend

AA 1100 - New Beginnings - Dells [1978] (9-78, #169) Super Woman/Drowning For Your Love/I Wanna Testify/All Your Goodies Are Gone//My Life Is So Wonderful (When You're Around)/Call Me (Right By Your Side I'll Be)/Cherish/Tripped , Slipped, Stumbled And Fell

AA 1101 - Lost In The Late Late Show - Traveler [1978] Who Are You Foolin'?/Lost In The Late, Late Show/Together Again/Genuine Feeling/Things Are Back To Normal//Don't You Blame It On Me/I'll Be Better/Roll On, Santa Fe/Everyone's Dancing But Me

AA 1102 - The Best of Crosby/Nash - David Crosby & Graham Nash [1978] (10-78, #150) Love Work Out/The Wall Song/Wild Tales/Carry Me/Out Of The Darkness//Southbound Train/Laughing/Chicago/Bittersweet/To The Last Whale (Critical Mass-Wind On The Water)

AA 1103 - Actor of Music - Mel Brown [1978]

AA 1104 - Clayton - David Clayton-Thomas [1978] Laying Down Rock And Roll/Fooled Ya/Homeward Bound/Sweet Sixteen/I'm A Free Man//Liberated Girls Don't Cry/Friday The 13th Child/Professor Longhair/Sugar Comes From Arkansas/Drown In My Own Tears

AY 1105 - Rose Colored Glasses - John Conlee [10/78] Reissued as MCA 3281 (and later as MCA 873). Rose Colored Glasses/Something Special/I'll Be Easy/Let Your Love Fall Back On Me/Backside Of Thirty//Lady Lay Down/She Loves My Troubles Away/Just Let It Slide/Some Old California Memory/Hold On

* AA 1106 - Cry - John Klemmer [1978] (11-78, #178) Cry/Ecstasy/Happiness/I Am/Infinity/Intimacy/Love/'Round Midnight/Waterfalls

AK 1107 - Gaucho - Steely Dan [Unreleased] This album was tied up in litigation over it's ownership, the Greatest Hits album was released in it's place. When it was finally released it was MCA 6102.

* AK 1107-2 - Greatest Hits - Steely Dan [1978] (11-78, #30) Two record set. Any Major Dude Will Tell You/Bad Sneakers/Black Friday/Bodhisattva/Do It Again/Doctor Wu/East St. Louis Toodle- Oo/The Fez/Haitian Divorce/Here At The Western World/Josie/Kid Charlemagne/My Old School/Peg/Pretzel Logic/Reeling In The Years/Rikki Don't Lose That Number/Show Biz Kids

AA 1108 - You Had to Be There: Jimmy Buffett Live - Jimmy Buffett [10/78] (2-LP set) Reissued as MCA2-6005. Disc 1: Son Of A Son Of A Sailor /Dialogue/Pencil Thin Mustache/Dialogue/Wonder Why We Ever Go Home/Landfall/Dialogue/Miss You So Badly/Dialogue/Havana Daydreamin'/Dialogue/Margaritaville/Dialogue/Changes In Latitudes Change In Attitudes/Dialogue/Come Monday/Dialogue/Perrier Blues; Disc 2: Dialogue/Grapefruit Juicy Fruit/Dialogue/God's Own Drunk/Dialogue/He Went To Paris/Dialogue/Captain And The Kid/Dialogue/Why Don't We Get Drunk And Screw/Dialogue/Pirate Looks At Forty/Dialogue/Tampico Trauma/Dialogue/Morris's Nightmare/Dixie Drinker

AA 1109 - We All Have A Star - Wilton Felder [1978] We All Have A Star/I Know Who I Am/Why Believe/The Cycles Of Time//Let's Dance Together/My Name Is Love/You And Me And Ecstasy/Ride On

AA 1110 - Pleasure - Sting [1978] Pleasure/Love Is The Answer/Can I Get It (When I Want It)//Do It In The Shower/Best Friend/Winning Number/Without Love (It Don't Mean A Thing)

AA 1111-2 - At the Hop - Various Artists [1978] Two record set. Disc 1: At The Hop - Danny & Juniors (M)/Honeycomb - Jimmie Rodgers (S, Dot re-recording)/Little Star - Elegants (M)/April Love - Pat Boone (S)/Eddie My Love - Fontane Sisters (M)/Young Love - Sonny James (S, Dot re-recording)/Dark Moon - Gale Storm (E)//Come Go With Me - Dell-Vikings (M)/Stagger Lee - Lloyd Price (M)/Born Too Late - Poni-Tails (M)/A Rose And A Baby Ruth - George Hamilton IV (E)/Who Put The Bomp - Barry Mann (S)/You Cheated - Shields (M)/Short Shorts - Royal Teens (E); Disc 2: Runaway - Del Shannon (E)/Sheila - Tommy Roe (S)/Pipeline - Chantays (S)/Wipeout - Surfaris (E)/Eve Of Destruction - Barry McGuire (S)/What Kind Of Fool - Tams (E)/It's Alright - Impressions (M)//California Dreamin' - Mamas & Papas (S)/Let's Live For Today - Grass Roots (S)/Born To Be Wild - Steppenwolf (S)/Girl Watcher - O'Kaysions (E)/Hey There Lonely Girl - Eddie Holman (S)/MacArthur Park - Richard Harris (S)/Easy To Be Hard - Three Dog Night (S)

AY 1112 - Love's Sweet Pain - John Wesley Ryles [2/79] Reissued as MCA 798. Someday You Will/Patches/She's On My Mind/Some Kind Of Miracle/When It Begins To End//Love Ain't Made For Fools/Love Coming Down/It's Raining Outside Your Door/Don't Waste It On Me/Finders Keepers Losers Weepers

AA 1113 - Face To Face - Dells [1979] Face To Face/Hooked On Loving You/Thought I Could/(You Bring Out) The Best In Me//Changed Man/Love Me/Plastic People/Wrapped Up Tight

AA 1114 - Tilt (Soundtrack) - Bill Wray and Lee Holdridge [5/79]

AY 1115 - One Run for the Roses - Narvel Felts [1/79] Reissued as MCA 799. One Run For The Roses/Everlasting Love/In The Still Of The Night/You Got Your Troubles/You're A Heartbreaker//Slip Away/Let's Get Back On The Lovin' Tracks/Small Enough To Crawl/Stirrin' Up Feelin's/Never Again

* AA 1116 - Brazilia - John Klemmer [1979] (6-79, #172) Bahia/Brazilia/Copacabana/Heartbreak/My Love Has Butterfly Wings/Summertime/Tender Storm/Tropical Snowflakes

AA 1117 - Oliver's Story (Soundtrack) - Lee Holdridge [2/79]

AA 1118 - III - Shotgun [1979] (5-79, #163) Reissued as MCA 1118. Skate/Don't You Wanna Make Love?/Midnight Breakdown//Burnin' Passion/Special Lady/Big Legs/Stone Women

* AB 1119 - The Best Of Barbara Mandrell - Barbara Mandrell [1979] (2-79, #170) After The Lovin'/Hold Me/Love Is Thin Ice/Married But Not To Each Other/Midnight Angel/Sleeping Single In A Double Bed/Standing Room Only/That's What Friends Are For/Tonight/Woman To Woman

* AA 1120 - Moulin Rouge - Moulin Rouge [1979] Holiday/Lonely Days/Massachusetts/My World/Run To Me/To Love Somebody

AA 1121 - Pipedream - Pipedream [1979] Part Of It All/Love Don't Come Easy/Only Cause/Heather/Feel Free//Dance On Baby/Rosalie/How Long/Lazy Lucy/Lies

AA 1122 - Taking Off - Keane Brothers [1979] Is Love Not Enough/Dancin' In The Moonlight/You're Running Away/Contract On Love/One Thing On My Mind//Taking Off/Pure Love/I Wanna Be Where You Are/Rain Or Shine/Candy

AA 1123 - The Amazing Rhythm Aces - Amazing Rhythm Aces [1979] Love And Happiness/Lipstick Traces (On A Cigarette)/Homestead In My Heart/Say You Lied/The Lonely One//Pretty Words/If You Gotta Make A Fool Of Somebody/Whispering In The Night/Rodrigo, Rita And Elaine

AA 1124 -

AA 1125 - Any Time-Any Place - Dramatics [1979] I Just Wanna Dance With You/Bottom Line Woman/That's My Favorite Song/I Think About You/Get With The Band And Dance//Life Is Just A Playground/I'm Hooked On You/Stranger (In My Life)/Love Birds/A Marriage On Paper Only

AA 1126 - Carmel - Joe Sample [1979] (2-79, #56) Carmel/Paintings/Cannery Row/A Rainy Day In Monterey//Sunrise/Midnight And Mist/More Beautiful Each Day

AA 1127 - All the Way Love - Lawrence Hilton Jacobs [1979]

1128 -

AA 1129 - Solar Heat - Solar Heat [5/79]

AA 1130 - Hallelujah Disco - Mildred Clark, Salem Travelers, Mighty Clouds of Joy, Inez Andrews and others [5/79]

* AA 1131 - Dancing In The Fire - Delilah [1979] Are You Ready/Dancing In The Fire/Give A Little Love/Showbiz Medley: Showbiz-The Stripper-Night Train

AY 1132 - Tex-Mex - Freddy Fender [3/79] You're Turning Down The Flame Of Love Too Low/Leaning/If That's All That's Worrying You/Just Because/I Really Don't Want You To Know/Walking Piece Of Heaven//She Came To The Valley/I'm A Fool To Care/She's Gone/Sweet Summer Day/Forgive/Cajun Stomp

1133 -

AA 1134 - Big City Rock - Atlantics [1979] One Last Night/When You're Young/Television Girl/I Can't Help It/Modern Times Girl//Nowhere To Run/Waitin' For My Baby/So Long/Teenage Flu/Big City Rock

AY 1135 - The Oak Ridge Boys Have Arrived - Oak Ridge Boys [1979] Sail Away/There Must Be Something About Me That She Loves/Sometimes The Rain Won't Let Me Sleep/I Gotta Get Over This/My Radio Sure Sounds Good To Me/Dream On/Leaving Louisiana In The Broad Daylight/Every Now And Then/Dig A Little Deeper In The Well/Dancing The Night Away

AA 1136 - Happy Feet - Al Hudson & The Soul Partners [1979]

1137 -

1138 -

1139 -

1140 -

AY 1141 - The Best of Don Williams, Volume II - Don Williams [5/79] This is probably the last ABC release. Shortly after release, this was renumbered MCA 3096 (and later to MCA 25056). Turn Out The Light And Love Me Tonight/Till The Rivers All Run Dry/Rake And Ramblin' Man/I'm Just A Country Boy/Some Broken Hearts Never Mend/Tulsa Time/She Never Knew Me/Falling In Love/I've Got A Winner In You/You're My Best Friend/Say It Again


Thanks to Frank Frantik, Peter Preuss, and Bill Puig.




Back to the ABC Records Story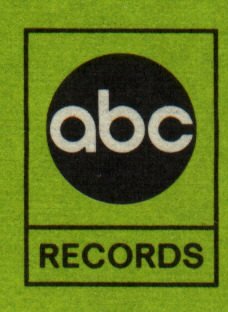 Back to the ABC-Paramount Discography, Part 9 900-999 (1975-1977)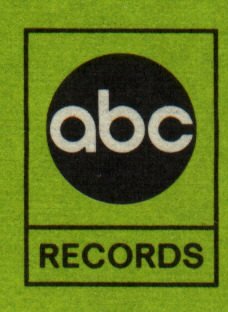 On to the ABC-Paramount Discography, Part 11 The ABC Collection (1976)



Back to the Discography Listings Page



Back to the Both Sides Now Home Page