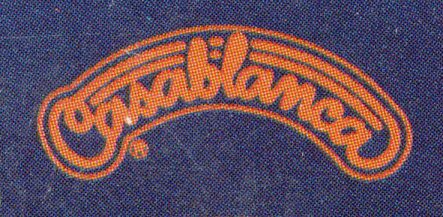 Casablanca Album Discography, Part 5:
PolyGram Numbering (1983- )
By Patrice Eyries, David Edwards, and Mike Callahan
Last update: February 15, 2006






Starting in 1983, PolyGram began numbering their releases according to bar codes, a practice that would rapidly catch on in the industry. They also set about (at a slower pace) re-numbering the items in their back catalog, re-issuing each album with a bar code. Since PolyGram's bar code sequence includes a worldwide array of products, the sequence of the US releases, even looking across all their US labels, has many gaps. We have looked over several PolyGram catalogs from the mid-1980s to attempt to list reissues and the approximate date of reissue/renumbering of back catalog items.

For easy reading, we have chosen to list the catalog numbers as three groups of three digits, followed by a "-1". (The "-1" indicates a vinyl LP; 2 indicates a CD, 4 a cassette, etc.) Sometimes the numbers would appear that way on the albums, and other times there would be various dashes mixed in or parts of the catalog numbers run together without spaces or dashes. Often, when citing the record numbers, the "422" part of the number was omitted. And to be precise, there are two additional digits in the bar code, one at the front and one at the end, that are usually not included in the record number (the final digit is a sum check).


| | | |
| --- | --- | --- |
| | | The Flashdance Soundtrack, released in 1983, was finally what pulled PolyGram out of a deep hole they had bought into in 1980. The album was an international hit as well as reaching #1 in the US. At far left is the regular US release, and at near left the cover of the Japanese picture disc version [Casablanca 30S-188]. |
| | | At far left is the front of the Japanese Flashdance picture disc, and at near left the back of the Japanese picture disc. |


PolyGram also bought the 20th Century label, and when reissuing albums, did so under the Casablanca imprint. The following also include 20th Century reissues.

We would appreciate any additions or corrections to this discography. Just send them to us via e-mail. Both Sides Now Publications is an information web page. We are not a catalog, nor can we provide the records listed below. We have no association with Casablanca Records. Should you be interested in acquiring albums listed in this discography (all of which are out of print), we suggest you see our Frequently Asked Questions page and follow the instructions found there. This story and discography are copyright 2006 by Mike Callahan.




CASABLANCA ALBUM DISCOGRAPHY, Part 5
| | |
| --- | --- |
| Cover | Number - Title - Artist - [Release Date] (Chart) Contents |


PolyGram Combined Series (Distributed by PolyGram) - CDs:


422 800 049-2 - Tonight - Four Tops [1984] Reissue of Casablanca NBLP 7258 on CD. When She Was My Girl/Don't Walk Away/Tonight I'm Gonna Love You All Over/Who's Right, Who's Wrong//Let Me Set You Free/From A Distance/Something To Remember/All I Do/I'll Never Ever Leave Again

422 800 054-2 - Players in the Dark - Dr. Hook [1984] Reissue of Casablanca NBLP 7264 on CD. Baby Make Her Blue Jeans Talk/The Turn On/Lady Sundown/I Can't Say No To Her/Loveline//Pity The Fool/Chained To Your Memory/The Devil's Daughter/Hearts Like Yours And Mine/Fire In The Night

422 810 011-2 - Walk Away: Collector's Edition (The Best of 1977-1980) - Donna Summer [1984] Reissue of Casablanca NBLP 7244 on CD. Bad Girls (3:54)/Hot Stuff (3:44)/On The Radio (4:03)/I Feel Love (5:39)/Walk Away (3:41)/Last Dance (3:18)/Sunset People (3:57)/MacArthur Park (3:54)/Our Love (4:51)


PolyGram Combined Series (Distributed by PolyGram) - Vinyl LPs:


422 810 303-1 - I Love You Because You're Fat - Rick Segall [1983]

422 810 306-1 - Everything You Always Wanted to Know About Home Computers - Steve Allen & Jayne Meadows [1983] Computer instruction with a 16-page book (that was obsolete almost immediately!). Certainly an odd record for Casablanca, but then again, PolyGram was now running the company, and they were pretty clueless. Everything You Always Wanted to Know About Home Computers, Part 1//Everything You Always Wanted to Know About Home Computers, Part 2

422 810 312-1 - The Kinsman Dazz Band - Kinsman Dazz Band [1983] Reissue of 20th Century T-574. Saturday Night/Get Down With The Feelin'/I Might As Well Forget About Loving You/Makin' Music//Dazzberry Jam/And I Mean/(Don't want To) Stand In Your Way/Name That Tune/In My Life

422 810 335-1 - Land of 1,000 Dances - Rags & Riches [1983] Medley: Land Of 1,000 Dances-Shotgun-Twist and Shout-Cool Jerk-Walking The Dog-El Watusi-La Bamba-Locomotion- Mashed Potato Time-Land Of 1,000 Dances//El Watusi-La Bamba (Disco Version)

422 810 366-1 - Patton (Soundtrack) - Jerry Goldsmith [1983] Reissue of 20th Century Fox S4208 and 20th Century T-902. Patton Speech/Main Title/The battleground/The First Battle/Attack/The Funeral/Winter March//Patton March/No Assignment/German Advance/The Hospital/The Payoff/End Title & Speech

422 810 368-1 - Hello Dolly (Soundtrack) - Lionel Newman/Lennie Hayton, with Barbra Streisand [1983] Reissue of 20th Century Fox DTCS-5103 and 20th Century ST-102. Just Leave Everything To Me/It Takes A Woman/It Takes A Woman (Reprise)/Put On Your Sunday Clothes/Ribbons Down My Back/Dancing/Before The Parade Passes By//Elegance/Love Is Only Love/Hello, Dolly/It Only Takes A Moment/So Long Dearie/Finale

422 811 022-1 - Four - Lipps, Inc. [1983] Funk 108/Cryin' Over You/Addicted To The Night/On To You//Never Could Be Sorry/Choir Practice/Obsessed/Let's Get Back To The Floor

422 811 123-1 - Live and More - Donna Summer [1985] Reissue of Casablanca NBLP 7119. Two record set. Once Upon A Time/Fairy Tale High/Faster And Faster To Nowhere/Spring Affair/Rumour Has It/I Love You//Only One Man/I Remember Yesterday/Love's Unkind/My Man Medley: The Man I Love-I Got It Bad And That Ain't Good-Some Of These Days/The Way We Were/Mimi's Song//Try Me, I Know We Can Make It/Love To Love You Baby/I Feel Love/Last Dance//MacArthur Park/One Of A Kind/Heaven Knows/MacArthur Park (Reprise)

*422 811 150-1 - Throbbing Python of Love - Robin Williams [1983] (4-83, #119) Babies/Back Home/Cats/Christopher/Devil's Dandruff/Elmer Fudd Sings Bruce Springsteen (Fire)/The Falklands/Jack/Newsboy/Nicholson/Richard Simmons/Shake Hands With Mr. Happy/Throbbing Python Of Love/Wines

422 811 364-1 - Merciless - Stephanie Mills [1983] (9-83, #104) How Come U Don't Call Me Anymore?/Never Get Enough Of You/Eternal Love/His Name Is Michael (With Peggy Blue)/Here I Am//My Body/Do You Love Him?/Pilot Error/Since We've Been Together

422 811 366-1 - Funny Fone Calls - Steve Allen [1983] Reissue of Dot DLP 3472. Arthur Goldstein's Mother/Call To Eddie, Sr./Calling The Auto Club/Call To Seattle/For Sale: Espresso Machine & Birds Wanted/Share The Ride/Singer Wanted/Wanted: Girl To Share Apartment

422 811 367-1 - More Funny Fone Calls - Steve Allen [1983] Reissue of Dot DLP 3517. Steve Allen and Jerry Lewis, Steve Allen and Jack Lemmon/Steve Allen & Bill "Jose Jimenez" Dana/Steve Allen & Johnny Carson/To Decatur, Ill.. to Mass./Louis Nye to N.Y./Shelley Berman to Seattle

422 811 492-1 - Flashdance (Soundtrack) - Various Artists [1983] (4-83, #1) Flashdance ... What A Feeling - Irene Cara/He's A Dream - Shandi/Love Theme From Flashdance - Helen St. John/Manhunt - Karen Kamon/Lady, Lady, Lady - Joe Esposito//Imagination - Laura Branigan/Romeo - Donna Summer/Seduce Me Tonight - Cycle V/I'll Be Where The Heart Is - Kim Carnes/Maniac - Michael Sembello

422 812 770-1 - Dynasty - Kiss [1983] Reissue of Casablanca NBLP 7152. I Was Made For Livin' You/2,000 Man/Sure Know Something/Dirty Livin'//Charisma/Magic Touch/Hard Times/X-Ray Eyes/Save Your Love

422-813 304-1 - It's Me Again - Leon Haywood [1983]

422 814 449-1 - All the Right Moves (Soundtrack) - Various Artists [1983] (12-83, #165) All The Right Moves - Jennifer Warnes & Chris Thompson/Blue Skies Forever - Frankie Miller/Hold Me Close To You - Stephanie Mills/I Don't Wanna Go Down - Roach/Last Stand - Doug Kahan/Love Theme - David Campbell/Mr. Popularity - Winston Ford/This Could Be Our Last Chance - Danny Spanos/Unison - Junior

422 814 984-1 - She's Strange - Cameo [1984] She's Strange/Love You Anyway/Talkin' Out The Side Of Your Neck/Tribute To Bob Marley/Groove With You/Hangin' Downtown/Le Ve Toi!

422 818 131-1 - Soft Talk - Mac Davis [1984]

422 822 213-1 - The Karate Kid (Soundtrack) - Various Artists [1984] (7-84, #114) (Bop Bop) On The Beach - Flirts & Jan & Dean/Desire - Gang Of Four/Feel The Night - Baxter Robertson/(It Takes) Two To Tango - Paul Davis/Moment Of Truth - Survivor/No Shelter - Broken Edge/Rhythm Man - St. Regis/Tough Love - Shandi/You're The Best - Joe "Bean" Esposito/Young Hearts - Commuter

422 822 421-1 - I've Got the Cure - Stephanie Mills [1984] (10-84, #73) The Medicine Song/Edge Of The Razor/In My Life/Give It Half A Chance//Outrageous/You Just Might Need A Friend/Everlasting Love/Rough Trade/Undercover

422 822 557-1 - Bad Girls - Donna Summer [1984] Reissue of Casablanca NBLP 7150. Two LP set. Hot Stuff/Bad Girls/Love Will Always Find You/Walk Away//Dim All The Lights/Journey To The Centre Of Your Heart/One Night In A Lifetime/Can't Get To Sleep At Night//On My Honor/There Will Always Be A You/All Through The Night/My Baby Understands//Our Love/Lucky/Sunset People

422 822 558-1 - On the Radio: Great Hits, Volumes I & II - Donna Summer [1984] Reissue of Casablanca NBLP 7191. Two LP set. On The Radio (short version, 4:00, from "Foxes")/Love To Love You Baby (4:07)/Try Me, I Know We Can Make It (3:24)/I Feel Love (3:20)/Our Love//I Remember Yesterday/I Love You/Heaven Knows/Last Dance//MacArthur Park/Hot Stuff/Bad Girls/Dim All The Lights/Sunset People//No More Tears (Enough Is Enough) [with Barbra Streisand] (11:44)/On The Radio (long version, 5:46)

422 822 559-1 - Greatest Hits, Volume II - Donna Summer [1984] Reissue of Casablanca NBLP 7202. Mac Arthur Park/Hot Stuff/Bad Girls/Dim All The Lights/Sunset People//No More Tears (Enough Is Enough) [with Barbra Streisand]/On The Radio (Long Version)

422 822 560-1 - Walk Away: Collector's Edition (The Best of 1977-1980) - Donna Summer [1984] Reissue of Casablanca NBLP 7244 on vinyl. Bad Girls (3:54)/Hot Stuff (3:44)/On The Radio (4:03)/I Feel Love (5:39)//Walk Away (3:41)/Last Dance (3:18)/Sunset People (3:57)/MacArthur Park (3:54)/Our Love (4:51)

*422 822 561-1 - Midnight Express (Soundtrack) - Various Artists [1984] Reissue of Casablanca NBLP 7114. Cacaphoney/Chase (Giorgio Moroder)/Istanbul Blues/Istanbul Opening/Love's Theme/The Wheel/Theme From Midnight Express/Theme From Midnight Express

422 822 637-1 - Parliament's Greatest Hits - Parliament [1984] Up For The Down Stroke (45 version)/Chocolate City (LP version)/P. Funk (Wants To Get Funked Up) (LP version)/Mothership Connection (Star Child)/Give Up The Funk (Tear The Roof Off The Sucker) (LP version)/Do That Stuff (45 version)/Bop Gun (Endangered Species) (LP version)/Flash Light (45 version)/Aqua Boogie (A Psychoalphadiscobetabioaquadoloop) (45 version)/Theme From The Black Hole

422 822 638-1 - Very Best and More - Mac Davis [1984] It's Hard To Be Humble/Hooked On Music/Rodeo Clown/You're My Bestest Friend/Secrets//Texas In My Rear View Mirror/Let's Keep It That Way/Midnight Crazy/Shame On The Moon/Most Of All

422 822 705-1 - Private Property - Carl Carlton [1985] Private Property/Thank You For Sticking Around/Slipped, Tripped (Fooled Around and Fell In Love)/Stand By Me//Mama's Boy/Never Got Over You/Hot/Free, Fine & 21

422 822 744-1 - The Little Drummer Boy - Harry Simeone Chorale [1985] Reissue of 20th Century T-580. Sing We Now of Christmas-Angels We Have Heard on High-Away in a Manger-What Child is This?-Joy to the World (S)/Go Tell it On a Mountain (S)/It Came Upon a Midnight Clear-Good King Wenceslas-We Three Kings-Villancico-Hark, The Herald Angels Sing (S)/Bring A Torch, Isabella-Lo, How a Rose E'er Blooming (S)/Deck the Halls-Christian Men Rejoice-Master's In the Hall-O Tannenbaum (S)//Sing We Now Of Christmas (Reprise)-O Holy Night (S)/The Little Drummer Boy (E, bass-treble separation)/Coventry Carol-Rise Up Shepherds-God Rest Ye Merry Gentlemen-O Little Town Of Bethlehem-O Come Little Children (S)/Ding Dong-While Shepherds Watched Their Flocks By Night-The First Noel-The Friendly Beasts (S)/Silent Night-Adeste Fideles-A Christmas Greeting (S)

422 822 780-1 - Alive! - Kiss [1984] Reissue of Casablanca NBLP 7020. Two LP set. Deuce/Strutter/Got To Choose/Hotter Than Hell/Firehouse//Nothin' To Lose/C'mon And Love Me/Parasite/She//Watchin' You/100,000 Years/Black Diamond//Rock Bottom/Cold Gin/Rock And Roll All Nite/Let Me Go, Rock And Roll

*422 822 781-1 - Alive II - Kiss [1984] Reissue of Casablanca NBLP 7076. Two LP set. All American Man/Any Way You Want It/Beth/Calling Dr. Love/Christine Sixteen/Detroit Rock City/Do You Love Me/God Of Thunder/Hard Luck Woman/Hooligan/I Stole Your Love/I Want You/King Of The Night Time World/Ladies Room/Larger Than Life/Love Gun/Makin' Love/Rocket Ride/Rockin' In The USA/Shock Me/Shout It Out Loud/Take Me/Tomorrow And Tonight

422 822 782-1 - Greatest Hits - Barry White [1984] Reissue of 20th Century T 493. All tracks stereo. What Am I Gonna Do With You [seems to be 45 edit but fades later]/You're The First The Last My Everything [original LP had radical 3:20 edit (possibly the AM radio version), not the stock 45 version. Here we get the LP version]/Can't Get Enough Of Your Love Babe [LP version]/Honey Please Can't Ya See [3:12 45 version, same as on the original LP]/Love Serenade [7:03, same as on the original LP]/Never Never Gonna Give Ya Up [4:47 here was 'long' version on DJ single; flip of DJ was 3:58, same as stock single, which was what was used for the original LP]/I'm Gonna Love You Just A Little More Baby [Original LP had 3:58 45 version; here it's the same edit but fades later, at 4:10]/I've Found Someone [3:38, same as on the original LP]/I've Got So Much To Give [3:06 45 version, same as on the original LP]/Standing In The Shadows Of Love [5:20 edit, same as on the original LP]

422 822 783-1 - Greatest Hits II - Barry White [1984] Reissue of 20th Century T 599. All tracks stereo. How Did You Know It Was Me/It's Ecstasy When You Lay Down Next To Me/I'm Qualified To Satisfy You/You Turned My Whole World Around/Your Sweetness Is My Weakness/Sha La La Means I Love You/Let The Music Play/Oh What A Night For Dancing

422 822 784-1 - Tales of Mystery and Imagination: Edgar Allen Poe - Alan Parsons Project [1984] Reissue of 20th Century T 508. A Dream Within A Dream/The Raven/The Tell-Tale Heart/The Cask Of Amontillado/(The System Of) Doctor Tarr And Professor Fether//The Fall Of The House Of Usher (Prelude-Arrival-Intermezzo-Pavane-Fall)/To One In Paradise

422 822 792-1 - Love to Love You, Baby - Donna Summer [1985] Reissue of Oasis OCLP 5003. Love To Love You Baby//Full Of Emptiness/Need-A-Man Blues/Whispering Waves/Pandora's Box/Full Of Emptiness (Reprise)

422 822 793-1 - A Love Trilogy - Donna Summer [1985] Reissue of Oasis OCLP 5004. Try Me-I Know-We Can Make It-Try Me, I Know We Can Make It//Intro: Prelude To Love/Could It Be Magic/Wasted/Come With Me

422 822 869-1 - All that Jazz (Soundtrack) - Various Artists [1984] Reissue of Casablanca NBLP 7198. On Broadway - George Benson/Take Off With Us, Michelle - Sandhal Bergman & Chorus/Vivaldi Concert in G/Ponte Vecchio/Everything Old Is New Again - Peter Allen/South Mt. Sinai Street Parade/After You Are Gone - Leland Pulmer/There'll Be Some Changes Made - Ann Reinkring/Who's Sorry Now/Some Of These Days - Erzsebet Foldi/Going Home Now-Bye Bye Love - Ben Vereen & Roy Scheider

*422 822 942-1 - Thief of Hearts (Soundtrack) - Harold Faltermeyer [1984] (12-84, #179) Thief Of Hearts - Melissa Manchester/Collage/Final Confrontation/Just Imagine (Way Beyond Fear) - Beth Anderson & Joe "Bean" Esposito/Love In The Shadows - Elizabeth Daily/Love Theme/Passion Play - Annabella/Stolen Secrets/Tear Me Up - Darwun/Thief Of Hearts (instrumental)

422 823 490-1 - Every Man Has A Woman - Various Artists [1984] Every Man Has A Woman Who Loves Him - John Lennon/Silver Horse - Harry Nilsson/I'm Moving On - Eddie Money/Nobody Sees Me Like You Do - Rosanne Cash/Dogtown - Alternating Boxes/Goodbye Sadness - Roberta Flack//Walking On Thin Ice - Elvis Costello & The Attractions With The TKO Horns/Wake Up - Trio/Dream Love - Harry Nilsson/Now Or Never - Spirit Choir/Loneliness - Harry Nilsson/It's Alright - Sean Ono Lennon

422 824 146-1 - Kiss - Kiss [1984] Reissue of Casablanca NBLP 7001. Strutter/Nothin' To Lose/Firehouse/Cold Gin/Let Me Know//Kissin' Time/Deuce/Love Theme From Kiss/100,000 Years/Black Diamond

422 824 147-1 - Hotter than Hell - Kiss [1984] Reissue of Casablanca NBLP 7006. Got To Choose/Parasite/Goin' Blind/Hotter Than Hell/Let Me Go, Rock N Roll//All The Way/Watchin' You/Mainline/Comin' Home/Strange Ways

422 824 148-1 - Dressed to Kill - Kiss [1984] Reissue of Casablanca NBLP 7016. Room Service/Two Timer/Ladies In Waiting/Getaway/Rock Bottom//C'mon And Love Me/Anything For My Baby/She/Love Her All I Can/Rock And Roll All Nite

422 824 149-1 - Destroyer - Kiss [1984] Reissue of Casablanca NBLP 7025. Detroit, Rock City/King Of The Night Time World/God Of Thunder/Great Expectations//Flaming Youth/Sweet Pain/Shout It Out Loud/Beth/Do You Love Me

422 824 150-1 - Rock and Roll Over - Kiss [1984] Reissue of Casablanca NBLP 7037. I Want You/Take Me/Calling Dr. Love/Ladies Room/Baby Driver//Love Em And Leave Em/Mr. Speed/See You In Your Dreams/Hard Luck Woman/Makin' Love

422 824 151-1 - Love Gun - Kiss [1984] Reissue of Casablanca NBLP 7057. I Stole Your Love/Christine Sixteen/Got Love For Sale/Shock Me/Tomorrow And Tonight//Love Gun/Hooligan/Almost Human/Plaster Caster/Then She Kissed Me

422 824 153-1 - The Elder - Kiss [1984] Reissue of Casablanca NBLP 7261. The Oath/Fanfare/Just A Boy/Dark Light/Only You/Under The Rose//A World Without Heroes/Mr. Blackwell/Escape From The Island/Odyssey/I

422 824 154-1 - Creatures of the Night - Kiss [1984] Reissue of Casablanca NBLP 7270. Creatures Of The Night/Saint And Sinner/Keep Me Comin'/Rock And Roll Hell/Danger//I Love It Loud/I Still Love You/Killer/War Machine

422 824 155-1 - Double Platinum - Kiss [1984] Reissue of Casablanca NBLP 7100. Two LP set. Strutter '78/Do You Love Me/Hard Luck Woman/Calling Dr. Love/Let Me Go, Rock N Roll//Love Gun/God Of Thunder/Firehouse/Hotter Than Hell/I Want You//Deuce/100,000 Years/Detroit Rock City/She/Rock And Roll All Nite//Beth/Makin' Love/C'mon And Love Me/Cold Gin/Black Diamond

422 824 156-1 - No Respect - Rodney Dangerfield [1984] Reissue of Casablanca NBLP 7229. No Respect//Son Of No Respect

422 824 501-1 - Funkentelechy vs. the Placebo Syndrome - Parliament [1985] Reissue of Casablanca NBLP 7084. Bop Gun (Endangered Species)/Sir Nose D'Voidoffunk (Pay Attention-B3M)/Wizard Of Finance//Funkentelechy/Placebo Syndrome/Flash Light

422 824 502-1 - Mothership Connection - Parliament [1985] Reissue of Casablanca NBLP 7022. P. Funk (Wants To Get Funked Up)/Mothership Connection (Star Child)/Unfunky UFO//Supergroovalisticprosifunkstication (The Thumps Bump)/Handcuffs/Give Up The Funk (Tear The Roof Off The Sucker)/Night Of The Thumpasorus Peoples

422 824 546-1 - Single Life - Cameo [1985] Attack Me With Your Love/Single Life/I've Got Your Image/A Good Bye/I'll Never Look For Love/Urban Warrior/Little Boys Dangerous Toys

422 826 236-1 - Four Seasons of Love - Donna Summer [1985] Reissue of Casablanca NBLP 7038. Spring Affair/Summer Fever//Autumn Changes/Winter Melody/Spring Reprise

422 826 237-1 - I Remember Yesterday - Donna Summer [1985] Reissue of Casablanca NBLP 7056. I Remember Yesterday/Love's Unkind/Back In Love Again/I Remember Yesterday (Reprise)//Black Lady/Take Me/Can't We Just Sit Down (And Talk It Over)/I Feel Love

422 826 238-1 - Once Upon a Time...Happily Ever After - Donna Summer [1985] Two record set. Reissue of Casablanca NBLP 7078. Once Upon A Time/Faster And Faster To Nowhere/Fairy Tale High/Say Something Nice//Now I Need You/Working The Midnight Shift/Queen For A Day//If You Got It, Flaunt It/A Man Like You/Sweet Romance/(Theme) Once Upon A Time/Dance Into My Life//Rumour Has It/I Love You/Happily Ever After/(Theme) Once Upon A Time

422 826 239-1 - Gene Simmons - Gene Simmons [1985] Reissue of Casablanca 7120. Radioactive/Burning Up With Fever/See You Tonite/Tunnel Of Love/True Confessions//Living In Sin/Always Near You-Nowhere To Hide/Man Of 1000 Faces/Mr. Make Believe/See You In Your Dreams/When You Wish Upon A Star

422 826 240-1 - They're Playing Our Song (Original Cast) - Various Artists [1985] Reissue of Casablanca NBLP 7141. Fallin'/Workin' It Out/If He Really Knew Me/They're Playing Our Song: His/They're Playing Our Song: Hers/Right/Just For Tonight//Entr'Acte/When You're In My Arms/If He Really Knew Me (Reprise)/I Still Believe In Love/Fill In The Words/They're Playing Our Song: The Bows

422 826 241-1 - Stand Up Comic - Woody Allen [1985] Two record set. Reissue of Casablanca NBLP 2-7145.

422 826 242-1 - Unmasked - Kiss [1985] Reissue of Casablanca NBLP 7225. Is That You?/Shandi/Talk To Me/Naked City/What Makes The World Go Round//Tomorrow/Two Sides Of The Coin/She's So European/Easy As It Seems/Torpedo Girl/You're All That I Want

422 826 286-1 - The Godz - Godz [1985] Reissue of Millennium MNLP 8003. Go Away/Baby I Love You/Guaranteed/Gotta Keep A Runnin'//Under The Table/Cross Country/Candy's Going Bad

422 826 306-1 - A Chorus Line: The Movie (Soundtrack) - Various Artists [1985] (12-85, #77) I Hope I Get It/I Can Do That/At The Ballet/Surprise, Surprise/Let Me Dance For You/Nothing/Who Am I Anyway?/Dance: Ten, Looks: Three/One (rehearsal)/What I Did For Love/One (reprise)

422 826 691-1 - Strange Behavior - Animotion [1986] I Want You/I Engineer/Strange Behavior/Stealing Time/Anxiety//Out Of Control/Stranded/The Essence/One Step Ahead/Staring Down The Demons

422 826 915-1 - Paul Stanley - Paul Stanley [1985] Reissue of Casablanca 7123. Tonight You Belong To Me/Move On/Ain't Quite Right/Wouldn't You Like To Know Me/Take Me Away (Together As One)//It's Alright/Hold Me, Touch Me (Think Of Me When We're Apart)/Love In Chains/Goodbye

422 826 916-1 - Ace Frehley - Ace Frehley [1985] Reissue of Casablanca 7121. Rip It Out/Speedin' Out To My Baby/Snow Blind/Ozone/What's On Your Mind?//New York Groove/I'm In Need Of Love/Wiped-Out/Fractured Mirror

422 826 917-1 - Peter Criss - Peter Criss [1985] Reissue of Casablanca 7122. I'm Gonna Love You/You Matter To Me/Tossin' And Turnin'/Don't You Let Me Down/That's The Kind Of Sugar Papa Likes//Easy Thing/Rock Me, Baby/Kiss The Girl Goodbye/Hooked On Rock And Roll/I Can't Stop The Rain

Atlanta Artists 422 830 265-1 - Word Up - Cameo [1986] Word Up/Candy/Back And Forth/Don't Be Lonely/She's Mine/Fast Fierce & Funny/You Can Have The World

422 830 323-1 - Cameosis - Cameo [1986] Reissue of Chocolate City CCLP 2011. Cameosis/Shake Your Pants/Please You//We're Goin' Out Tonight/I Care For You/On The One/Why Have I Lost You

422 830 534-1 - Dance Collection - Donna Summer [1986] Issued on CD in 1990. I Feel Love/With Your Love/Last Dance/MacArthur Park Suite: Mac Arthur Park-One Of A Kind-Heaven Knows-MacArthur Park (reprise)/Hot Stuff /Walk Away/Dim All The Lights/No More Tears (Enough Is Enough) [with Barbra Streisand]

422 832 519-1 - In My Life: Greatest Hits - Stephanie Mills [1987] In My Life/Put Your Body In It/Two Hearts/Feel The Fire/Never Knew Love Like This Before/The Medicine Song/What Cha Gonna Do With My Lovin'/Sweet Sensation

422 834 941-1 - Parliament Live: P-Funk Earth Tour - Parliament [1988] Reissue of Casablanca NBLP 7053. Two record set. P. Funk (Wants To Get Funked Up)/Dr. Funkenstein's Supergroovalisticprosifunkstication Medley: Let's Take It To The Stage (If You Ain't Gonna Get It On)-Take Your Dead Ass Home (Say Som'n Nasty)/Do That Stuff/The Landing (Of The Holy Mothership)//The Unidisco Kidd (The Girl Is Bad!)/Children Of Production/Star Child (Mothership Connection)/Swing Down, Sweet Chariot (Featuring Glen Goins)//This Is The Way We Funk With You (Featuring Mike Hampton)/Dr. Funkenstein//Gamin' On Ya/Tear The Roof Off The Sucker Medley: Give Up The Funk (Tear The Roof Off The Sucker)-Get Off Your Ass And Jam/Night Of The Thumpasorus Peoples/Fantasy Is Reality

422 836 700-1 - Chocolate City - Parliament [1988] Reissue of Casablanca NBLP 7014. Chocolate City/Ride On/Together/Side Effects/What Comes Funky//Let Me Be/If It Don't Fit (Don't Force It)/I Misjudged You/Big Footin'

422 842 619-1 - Up for the Down Stroke - Parliament [198?] Reissue of Casablanca NBLP 7002. Up For The Down Stroke/Testify/The Goose/I Can Move You (If You Let Me)//Just Got Back From The Fantasy, Ahead Of Our Times In The Four Lands Of Ellet/All Your Goodies Are Gone/Whatever Makes Baby Feel Good/Presence Of A Brain

422 842 620-1 - The Clones of Dr. Funkenstein - Parliament [198?] Reissue of Casablanca NBLP 7034. Prelude/Gamin' On Ya/Dr. Funkenstein/Children Of Productions/Getten' To Know You//Do That Stuff/Everything Is On The One/I've Been Watching You (Move Your Sexy Body)/Funkin' For Fun

422 842 621-1 - Motor Booty Affair - Parliament [198?] Reissue of Casablanca NBLP 7125. Mr. Wiggles/Rumpofsteelskin/(You're A Fish And You're A) Water Sign/Aqua Boogie (A Psychoalphadiscobetabioaquadoloop)//One Of Those Funky Things/Liquid Sunshine/The Motor-Booty Affair/Deep

*422 842 622-1 - Gloryhallastoopid - Parliament [198?] Reissue of Casablanca NBLP 7195. Big Bang Theory/Colour Me Funky/Freeze (Sizzaleenmean)/(Gloryhallastoppid) Pink The Tale On The Funky/May We Bang You?/Party People/Theme From The Black Hole

422 842 623-1 - Trombipulation - Parliament [198?] Reissue of Casablanca NBLP 7249. Crush It/Trombipulation/Long Way Around/Agony Of Defeet//New Doo Review/Let's Play House/Body Language/Peek- A-Groove


SELECTED CD COMPILATIONS:

314 510 275-2 - The Best of Con Funk Shun - Con Funk Shun [1993] Shake And Dance With Me/Ffun/Straight From The Heart/Love's Train/So Easy/Too Tight/By Your Side/Juicy/Got To Be Enough/Ms. Got-The-Body/Chase Me/Sho' Feels Good To Me/California 1/(Let Me Put) Love On Your Mind/All Up To You/I'm Leaving Baby/Baby I'm Hooked (Right Into Your Love)

314 512 595-2 - Knights of the Sound Table - Cameo [1993] Reissue of Chocolate City CCLP 2019.

314 512 969-2 - Funkyworld: The Best of Lipps, Inc. - Lipps, Inc. [1993] Funkytown/All Night Dancing/Rock It/How Long/Tight Pair/Jazzy/Designer Music/Hold Me Down/Addicted To The Night/Choir Practice/Does Anybody Know Me/Hit The Deck

314 514 127-2 - When She Was My Girl - Four Tops [1993]

314 514 417-2 - Tear the Roof Off 1974-1980 - Parliament [1993] 2-CD set. All tracks stereo. Disc 1: P. Funk (Wants To Get Funked Up)/Up For The Down Stroke/Bop Gun (Endangered Species)/Dr. Funkenstein's Supergroovalistic-Prosifunkstication Medley: Let's Take It To The Stage-Take Your Dead Ass Home (Say Som'n Nasty) (live)/Mothership Connection (Star Child)/Dr. Funkenstein/Testify/Mr. Wiggles/Aqua Boogie (A Psychoalphadiscobetabioaquadoloop)/All Your Goodies Are Gone/Do That Stuff/Party People; Disc 2: Prelude/Give Up The Funk (Tear The Roof Off The Sucker)/Chocolate City/Funkentelechy/Theme From The Black Hole/The Big Bang Theory/Children Of Production (live)/Flash Light/Ride On/Fantasy Is Reality/Rumpofsteelskin/Agony Of Defeet/Funkin' For Fun

314 514 821-2 - The Funky Stuff: Funk Essentials Sampler - Various Artists [1993] Flash Light - Parliament/Funky Stuff - Kool & the Gang/Rigor Mortis - Cameo/Too Hot To Stop - Bar- Kays/Chase Me - Con Funk Shun/Let's Start The Dance - Bohannon/I Don't Believe You Wanna Get Up And Dance (Oops!) - Gap Band/Tear The Roof Off The Sucker (Give Up The Funk) - Parliament/Jungle Jazz - Kool & the Gang/Ffun - Con Funk Shun/I Want'a Do Something Freaky To You - Leon Haywood

314 514 822-2 - The Best of Kool and the Gang - Kool & the Gang [1993] Funky Stuff/Who's Gonna Take The Weight, Parts 1 & 2/Rhyme Time People/Hollywood Swinging/Love The Life You Live, Parts 1 & 2/Give It Up/Chocolate Buttermilk/Jungle Boogie/Let The Music Take Your Mind (extended mix)/Open Sesame, Part 2/Kool It (Here Comes The Fuzz)/Summer Madness (live)/NT, Parts 1 & 2/Pneumonia/Love & Understanding (Come Together)/Spirit Of The Boogie

314 514 823-2 - The Best of the Bar-Kays - Bar-Kays [1993]

314 514 824-2 - The Best of Cameo - Cameo [1993] She's Strange/I Just Want To Be/Shake Your Pants/I'll Always Stay/Flirt/I Like It/I Care For You/Be Yourself/Keep It Hot/Feel Me/The Rock

314 516 917-2 - The Casablanca Records Story - Various Artists [1994] 4-CD box set. These are the long versions (boy, are they ever!), mostly 12" or LP versions. All tracks stereo. Issued in a 4-CD jewel box as a promo copy on Casablanca SACD 916. Disc 1: Love To Love You Baby - Donna Summer (16:49)/Funkytown - Lipps, Inc. (7:49)/Tear The Roof Off The Sucker - Parliament (5:46)/Take Me Home - Cher (7:31)/I Feel Love - Donna Summer (8:12)/Romeo And Juliet - Alec R. Constandinos (4:10)/Ain't Nothin' Gonna Keep Me Away From You - Teri Desario (6:31)/In The Navy - Village People (3:43)/My Baby's Baby - Liquid Gold (6:39)/Find My Way - Cameo (5:17)/I Found Love (Now That I Found You) - Love And Kisses (5:02); Disc 2: Thank God It's Friday - Love And Kisses (7:40)/MacArthur Park Suite - Donna Summer (17:33)/Music Harmony And Rhythm - Brooklyn Dreams (6:48)/San Francisco (You've Got Me) - Village People (5:19)/In Hollywood (Everybody Is A Star) - Village People (4:53)/Let's Go All The Way (Down) - Brenda & Tabulations (7:18)/Let Them Dance - D.C. LaRue (5:48)/Put Your Feet To The Beat - Ritchie Family (6:58)/Pleasure Island - Paul Jabara (4:47)/Like An Eagle - Dennis Parker (8:35); Disc 3: Flashlight - Parliament (5:47)/I Just Want To Be - Cameo (6:21)/I Just Wanna Dance With You - Starpoint (5:01)/Hot Stuff - Donna Summer (6:46)/Bad Girls - Donna Summer (4:56)/Chase - Giorgio Moroder (8:23)/Walk The Night - Skatt Bros. (5:24)/Don't Stop Get Off - Sylvers (5:20)/You Ought To Be Dancing - People's Choice (6:14)/Medicine Song - Stephanie Mills (4:53)/Dance Freak And Boogie - Nitelife Unlimited (7:34)/Macho Man - Village People (5:12)/Pleasure Principle - Parlet (4:32); Disc 4: On The Radio - Donna Summer (7:33)/When She Was My Girl - Four Tops (3:22)/Just As Long As We're Together - Gloria Scott (2:44)/YMCA - Village People (4:43)/Star Wars Theme-Cantina Band - Meco (7:35)/Maniac - Michael Sembello (5:54)/Touch Me Baby-Love Is The Ultimate - Ultimate (10:35)/Do That To Me One More Time - Captain & Tennille (4:12)/Yes I'm Ready - Toni Desario with K.C. (3:16)/I Love America - Patrick Juvet (3:47)/After Dark - Pattie Brooks (7:49)/Flashdance...What A Feeling - Irene Cara (7:14)/Last Dance - Donna Summer (8:11)

314 526 253-2 - Casablanca Records Greatest Hits - Various Artists [1996] All tracks stereo. Hot Stuff - Donna Summer (5:14, segues with next song)/Bad Girls - Donna Summer (4:55, segues from previous song, but digital indexing is perfect for starting the song cold for programming)/YMCA - Village People (3:45)/Thank God It's Friday - Love And Kisses (3:18)/Funkytown - Lipps, Inc. (3:56)/On The Radio - Donna Summer (4:04)/Star Wars Theme - Meco (3:35)/Macho Man - Village People (3:27)/Give Up The Funk (Tear The Roof Off) - Parliament (3:42, slight hiss)/I Feel Love - Donna Summer (3:46)/After Dark - Pattie Brooks (3:38)/Maniac - Michael Sembello (4:17 version from the LP Bossa Nova Hotel [Warner Bros. 9 23920-1], which is different from the 45)/Chase - Giorgio Moroder (3:39)/Music Harmony & Rhythm - Brooklyn Dreams (3:34)/In The Navy - Village People (3:43)/Take Me Home - Cher (3:26)/Dim All The Lights - Donna Summer (4:04)/Yes I'm Ready - Teri DeSario & KC (3:15)/Do That To Me One More Time - Captain & Tennille (4:12)/Last Dance - Donna Summer (3:18)

314 558 072-2 - Let Me Rock You - Peter Criss [1997] Let It Go/Tears/Move On Over/Jealous Guy/Destiny/Some Kinda' Hurricane/Let Me Rock You/First Day In The Rain/Feel Like Heaven/Bad Boys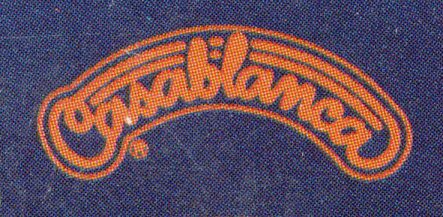 Back to the Casablanca Records Story




Back to the Casablanca Album Discography, Part 4 NBLP 7200 to NBLP 7286 (1980-1984)




Back to the Discography Listings Page




Back to the Both Sides Now Home Page