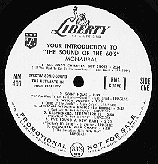 Liberty Records Discography, Part 3: Misc. Series
By David Edwards and Mike Callahan Last update: April 27, 2003







Liberty tried a plethora of different series over the years, most of which lasted only a few albums. The 6000 jazz series started about the same time as the 3000 pop series in 1955, but lasted less than two years. The 9000 series was another early (1956-58) pop series. By 1956, then, Liberty had a cataloguing system that made some sense, with a 3000, a 6000, and a 9000 series.

Then, in 1958, stereo hit and all cataloguing sense went out the window. The LST-7000 series was started for stereo releases, but corresponding albums in the 3000 and 7000 series had completely different numbers. Stereo sampler albums were issued under a new LST-100 series. A series was started using the 6000/7700 series designation (the Robert Rheims religious series) that duplicated catalog numbers already used in the 6000 Jazz series. A 15000 Classical series was started in the early 1960s, as well as a 16000 Soundtrack series, but these lasted scarcely more than a mere handful of albums each. A 5000 International series may have lasted only a single album. A 5500/6600 series was started in 1962 that included a variety of "sampler" albums, as well as a couple of more-or-less regular pop issues. A special "2-LP set for the price of one" by Bud and Travis was issued on a new 11000/12000 series, both catalog numbers of which would be duplicated later by other albums.

There was also a series of promotional releases (the MM-400 series), of which we have little information at this point.

We would appreciate any additions or corrections to this discography. Just send them to us via e-mail. Both Sides Now Publications is an information web page, and we have no association with Liberty Records. Liberty Records is currently owned by the EMI Records Group. Should you want to contact EMI, or should you be interested in acquiring albums listed in this discography (which are all out of print), we suggest you see our "Frequently Asked Questions" page and follow the instructions found there. This discography is copyright 1999 by Mike Callahan.



LIBERTY ALBUM DISCOGRAPHY, PART 3
MISC. SERIES

Number - Title - Artist [Release Date] (Chart) Contents

6000 Jazz Series:

LRP-6001 - Jazz In Hollywood - Various Artists [1955]

LRP-6002 - Dom Frontiere Quintet - Dom Frontiere Quintet [1956]

LRP-6003 - Harper-Shank-Gordon - Harper-Shank-Gordon [1956]

LRP-6004 - Mister Clarinet - Abe Most [1955]

LRP-6005 - Hollywood Saxophone Quartet - Hollywood Saxophone Quartet [10/55]

LRP-6006 - Jazz Mad - Steve White [1955]

LRP-6007 - Shades of Things to Come - Jack Millman [5/56]

LRP-6008 - Smorgasbord - Bobby Enevoldsen [1956]

LRP-6009 - Buddy Childers Quintet - Buddy Childers Quintet [1956]

LRP-6010 - Jazz San Francisco Style - Virgil Gonsalves [1956]

LRP-6011 - The Brothers Nash - Nash Brothers [1956]

LRP-6012 - Vibe-Rations in Hi-Fi - Red Norvo [1956]

LRP-6013 - Buddy Childers Quartet - Buddy Childers Quartet [1/57]


8000 Series (Continuation of Dolton)

LST-8051 - Foreign Affairs - Vic Dana [1967]

LST-8052 - Super Psychedelics - Ventures [1967] (6-67, #69) Strawberry Fields Forever (S)/Psychedelic Venture (S)/Western Union (S)/Guitar Psychedelics (S)/Kandy Koncoction (S)/Reflections (S)/A Little Bit Me A Little Bit You (S)/Endless Dream (S)/Vibrations (S)/Psyched-Out (S)/1999 A.D. (S)/Happy Together (S)

LST-8053 - Golden Greats By the Ventures - Ventures [1967] (9-67, #50) Telstar/The Lonely Bull/Rebel-Rouser/Honky Tonk/Let's Go/Pipeline/Walk Don't Run/Tequila/Apache/Wipe-Out/Memphis/Out Of Limits

LST-8054 - $1,000,000.00 Weekend - Ventures [1967] (12-67, #55) What Now My Love (S)/Georgy Girl (S)/Ode To Billie Joe (S)/Sunny (S)/Respect (S)/To Sir With Love (S)/Music To Watch Girls By (S)/Groovin' (S)/Windy (S)/Sealed With A Kiss (S)/Uptight (Everything's Alright) (S)/Yesterday (S)

LST-8055 - Flights of Fantasy - Ventures [1968] (5-68, #169) Mighty Quinn (Quinn The Eskimo)/Innermotion Faze/The Ballad Of Bonnie And Clyde/Walking The Carpet/Flights Of Fantasy/Soul Coaxing/Green Light/Cry Like A Baby/Fly Away/Love Shower/Summertime Blues/Scarborough Fair-Canticle

LST-8057 - The Horse - Ventures [1968] (8-68, #128) Grazing In The Grass/Crazy Horse/The Gallop/Choo-Choo Train/The Horse/Horse Power/Jumpin' Jack Flash/Land Of 1000 Dances/Walk Don't Run/Tip-Toe Thru' The Tulips With Me/Soul Breeze/Licking Stick Licking Stick

LST-8059 - Underground Fire - Ventures [1968] (1-69, #157) Underground Fire/Embers In E Minor/Sea Of Grass/Higher Than Thou/Up Up And Down/Country Funk And The Canned Head/Born To Be Wild/Sunshine Of Your Love/The Weight/Light My Fire/Down On Me/Fire

LST-8060 - More Golden Greats - Ventures [1969] (3-70, #154) Classical Gas/The Good Bad And The Ugly/Grazing In The Grass/Love Is Blue/Green Onions/House Of The Rising Sun/More/Raunchy/Mission: Impossible/Torquay/A Taste Of Honey

LST-8061 - Hawaii Five-O - Ventures [1969] (5-69, #11) Hawaii Five- O/Lovin' Things/Galveston/The Letter/Don't Give In To Him/Theme From "A Summer Place"/Medley: Spooky-Traces-Stormy/Medley: Aquarius-Let The Sunshine In (The Flesh Failures)/Games People Play/I Can Hear Music/Dizzy

LST-8062 - Swamp Rock - Ventures [1969] (12-69, #81) Carry Me Back/Honky Tonk Women/Muddy Mississippi Line/Jambalaya/Swamp Rock/Niki Hokey/Green River/Suspicious Minds/Catfish Mud Dance/Proud Mary/Gumbo/Plaquemines Parish

LST-8063 - If I Never Knew Your Name - Vic Dana [1969] If I Never Knew Your Name (E)/Mama Come 'N' Get Your Baby Boy (S)/Good Woman (S)/Everything (S)/Another Dream Shot Down (S)/Who Would Think That I Would Marry Margaret (S)//Red Red Wine (S, not listed on jacket)/Angeline (S)/Sunshine On A Cold Morning (S)/Half And Half (S)/Sad Day Song (E)/Rebecca (S)


9000 Pop Series:

SL-9001 - Swingin' with Starr - Kay Starr [11/56]

SL-9002 - Calendar Girl - Julie London [1956] (12-56, #18) June In January/February Brings The Rain/Melancholy March/I'll Remember April/People Who Are Born In May/Memphis In June/Sleigh Ride In July/Time For August/September In The Rain/This October/Warm In December/November Twilight/Thirteenth Month

SL-9003 - Romantic Places - John Duffy [1957]

SL-9004 - Jerry Colonna Plays Trombone - Jerry Colonna [1957] Dixieland Highway/Soft Shoulders/Post No Bills/Tallahassee Detour/Caution Go Slow/Dangerous Curves/Coffee Stop/Wait Outside/Slippery When Wet/Watch For Wild Life/Keep Off the Grass/Tourists Welcome/22 Miles To Conchita's/Big Fat Minnie/Dim Your Light/Hurry Back

SL-9005 - Escapade Reviews the Jazz Scene - Bobby Troup, Harold Rumsey, Johnny Otis, Jack Teagarden, Ziggy Elman [8/57] Part 1: Began the Blues/Part 2: Present And Future

SL-9006 - [2/58] Unknown release.


100 Series Stereo Samplers:

LST-100 - Liberty Proudly Presents Stereo... the Visual Sound - Various Artists [1959] Stereo only release. With narration by Jimmy Wallington, who at times talks over the intro to the songs, and guest appearances (between songs) by David Seville and the Chipmunks. This is also a stereo demonstration disc, with sound effects between songs. Notre Dame Victory March - University Brass Band & Russ Garcia (S)/Sweet Someone - Invitations (S)/I Got Rhythm - Stanley-Johnson Orchestra (S)/Bubble Bath - Spencer-Hagen Orchestra (S)/Tiger Rag - Jad Paul's Banjo Magic (S)/Stranger In Paradise - Martin Denny (S)//El Cumbanchero - Don Swan Orchestra (S)/Comin' Through The Rye - Julie London (S)/Caravan - John Buzon Trio (S)/Samoan Knife Dance - Chick Floyd (S)/Salta Perico - Jack Costanzo (S)/Aloha Oe - Billy Ward's Orchestra & Chorus (S)

LST-101 - This Is Stereo - Various Artists [1960] Stereo only release. Swingin' Eye - Si Zentner/It Might As Well Be Spring - Gene McDaniels/Sweet Georgia Brown - Johnny Mann Singers/I Get A Kick Out Of You - Felix Slatkin/Raspberries Strawberries - Bud & Travis/You'd Be So Nice To Come Home To - Julie London/Ruby - Martin Denny/Feetlebaum Bombs In Louisville - Spike Jones/(others)


6000/7700 Robert Rheims Religious Music Series:

SL-6006/ST-7706 - Merry Christmas in Carols - Robert Rheims Organ [1959] O Holy Night/ Hark! The Herald Angels Sing/God Rest Ye Merry Gentlemen/From Every Spire on Christmas Eve/The First Noel/ Joy to the World/Deck the Halls/Christmas Chimes are Pealing/Away in a Manger/I Saw Three Ships//Silent Night/O Little Town of Bethlehem/Good King Wenceslas/Angels We Have Heard on High/It Came Upon a Midnight Clear/I Heard the Bells on Christmas Day/O Christmas Tree/We Three Kings of Orient Are/Adeste Fideles/O Come All Ye Faithful

6007

SL-6008/ST-7708 - We Wish You a Merry Christmas - Robert Rheims Choraliers [1960] Bells of Christmas/Bring a Torch, Jeannette/The Coventry Carol/What Child is This/I Saw Three Ships/Here We come a Caroling/Christmas Chimes are Pealing/I Heard the Bells on Christmas Day/While Shepherds Watched/Shepherd Shake Off Your Drowsiness/Angels We Have Heard on High/We Wish You a Merry Christmas/O Holy Night/We Three Kings of Orient Are/O Come All Ye Faithful/The First Noel/O Little Town of Bethlehem/Joy to the World/Silent Night/Hark the Herald Angels Sing/Away in a Manger/God Rest Ye Merry Gentlemen/Deck the Halls/It Came Upon a Midnight Clear

6009

SL-6010/ST-7710 - For the Whole Family at Christmas - Robert Rheims [1960] Up on the House Top/Night Before Christmas Song/I Heard the Bells on Christmas Morning/We Wish You A Merry Christmas/Rudolph the Red Nosed Reindeer/Santa Claus Is Coming to Town/Jolly Old St. Nicholas/Home for the Holidays/I'll Be Home For Christmas/Jingle Bells/Carol of the Drum/Silver Bells/White Christmas/The Christmas Song/Winter Wonderland

SL-6011/ST-7711 - Themes from the Bible - Robert Rheims Chorale [1962] Love Theme from Ben Hur/The King of Kings Theme/Rapture of Love/Song of Bernadette/Lygia/Love Theme From the Robe/Theme from the Ten Commandments/The Greatest Story Ever Told/The Cardinal /Stay With Me


15000 Classical Series:

LRP-15001 - The Comedians Op. 26 (Kabalevsky) - Moscow Philharmonic Orchestra

LRP-15002 - Symphony No. 25 (Mozart) - London Sinfonia

LRP-15003 - Symphony No. 5 (Beethoven) - London Sinfonia

LRP-15004

LRP-15005 - Concerto No. 1 (Tchaikovsky) - London Sinfonia


16000 Soundtrack Series:

LOM-16001/LOS-17001 - One Eyed Jacks (Soundtrack) - Hugo Friedhofer [1961] Main Title/The Kiss Of A Scoundrel And Pursued By The Rurales/Toast To Friendship/Lonely Thoughts And Betrayal And Capture, Parts 1 & 2/Escape, Parts 1 & 2/To Monterey And The Search//Seduction/Contrition/To Point Of The Devil And Gentle Visitor/Dark Thoughts And Necklace And Idea/Confession And Confidence Regained/Finale

LOM-16002/LOS-17002 - The Road to Hong Kong (Soundtrack) - Robert Farnon [1962] Warmer Than A Whisper/Let's Not Be Sensible/Teamwork

LOM-16003/LOS-17003 -

LOM-16004/LOS-17004 - Enter Laughing (Soundtrack) - Quincy Jones [1967] Enter Laughing - Mel Carter/Exit Crying/Pennies From Heaven - Carl Reiner/David Dooze It/Main Title(Enter Laughing)//Enter Laughing/Ha-Cha-Cha - Carl Reiner/Vienna Wails/I Hear You Calling/Enter Laughing (End Title) - Mel Carter


5000 International Series:

LDM-5001 - Bullfight Music - Border Corrida Two record set.


5500/6600 Series:

L-5501/S-6601 - Best of Julie London - Julie London [1962] Cry Me A River (E)/Moments Like This (E)/Hot Toddy (S)/They Can't Take That From Me (S)/June In January (E)/Mad About The Boy (E)//Don't Smoke In Bed (S)/Ain't I Good To You (S)/Cuddle Up A Little Closer (S)/Invitation To The Blues (E)/You'd Be So Nice To Come Home To (S)/The Nearness Of You (E)/Daddy (E)

L-5502/S-6602 - Best of Martin Denny - Martin Denny [1962] Ebb Tide/Stranger In Paradise/Moonlight & Shadows/China Nights/Enchanted Sea/Ruby//Harbor Lights/Flamingo/Bali Ha'i/We Kiss In A Shadow/My Funny Valentine/Temptation

L-5503 mono - Teensville - Various Artists [1962] Everyday - Bobby Vee/The Little White Cloud That Cried - Fleetwoods/No Trespassing - Ventures/It's Only Make Believe - Johnny Burnette/One Last Kiss - Bobby Vee/Ram-Bunk-Shush - Ventures//I'm Still Dreamin' - Johnny Burnette/Truly Do - Fleetwoods/Bashful Bob - Bobby Vee/Raw-Hide - Ventures/My Special Angel - Johnny Burnette/Raindrops Teardrops - Fleetwoods

L-5504/S-6604 - Liberty Premier Series Spectacular - Various Artists [1962] Never On Sunday - Felix Slatkin (S)/Seventy-Six Trombones - Richard Marino (S)/Flamingo - Si Zentner & Johnny Mann Singers (S)/La Bamba - Tommy Garrett (S)/Lord Don't Move The Mountain - Bessie Griffin & Gospel Pearls (S)/Standing On The Corner - Felix Slatkin (S)//Pigalle - Felix Slatkin (S)/South Of The Border - Tommy Garrett (S)/'Tain't What You Do (It's The Way That Cha Do It) - Si Zentner & Johnny Mann Singers (S)/Little Brown Gal - Felix Slatkin (S)/Poor People Of Paris - Richard Marino (S)/The Magnificent VII - Felix Slatkin (S)

L-5505 - Golden Teen Hits - Various Artists [1962]

L-5506 - Liberty Hootenanny - Various Artists [1964] Raise a Ruckus - Nancy Ames /Chilly Winds - Nancy Ames/Down In the Valley - Bud & Travis /Ah Nora - Bud & Travis/Foggy Dew - Johnny Mann Singers/Muleskinner - Leon Bibb/Lady Bug - Leon Bibb/Laredo Lament - Raim/Sing Hallelujah - Jackie DeShannon/Fair & Tender Ladies - Bob Harter/Riddle Song - Wanderers 3/Medley: This Train Is Bound For Glory, 900 Miles - Mitchell Choir

L-5507/S-6607 - 50 Guitars Limited Edition - Tommy Garrett [1966] Guadalajara/Maria Elena/Tender Moments/Malaguena/Mexican Hat Dance/Cuando Calienta el sol/Bamba/Cielito Lindo/When my Blue Moon Turns to Gold/O Sole Mio/Aloha Oe


11000/12000 "2-for-the-price-of-one" Series:

LDM-11001/LDS-12001 - Bud and Travis... In Concert - Bud & Travis [1963] 2-LP set (11-63, #126) This was a specially-priced two disc set retailing for $4.98 mono and $5.98 stereo. Disc 1: Myra (S)/They Call The Wind Maria (S)/Delia's Gone (S)/Johnny I Hardly Knew Ye' (S)/Cloudy Summer Afternoon (S)//Malaguena Salerosa (S)/They're Rioting In Africa (The Merry Minuet) (S)/Guess I'll Go Home (S)/Come To The Dance (Vamos Al Baile) (S); Disc 2: La Vaquilla Colorada (S)/Raspberries Strawberries (S)/Bonsoir Dame (S)/Carmen Carmella (S)//Mexican Wedding Dance (La Bamba) (S)/Sloop John B (S)/Everybody Loves Saturday Night (S)


35000 Series: LST-35000 - The Ventures 10th Anniversary Album - Ventures [1970] (10-70, #91) (2-LP set) Everybody's Talkin'/CCR Medley: Bad Moon Rising-Who'll Stop The Rain/Bob Dylan Medley: Blowing In The Wind-Don't Think Twice It's Alright/Bridge Over Troubled Water/By The Time I Get To Phoenix/Eleanor Rigby/Hey Jude/Good Morning Starshine/Never My Love/Let It Be/Michelle/MacArthur Park/Sound Of Silence/Spinning Wheel/Raindrops Keep Falling On My Head/Strangers In The Night/Sugar Sugar/Sweet Caroline/Those Were The Days/Up Up And Away


Disc Jockey Promotional Releases:

MM-401

MM-402

MM 403 - Your Introduction to the Sound of the 'Sixties - Various Artists [1/60] Issued in monaural only to radio stations along with an order blank for ordering any of the featured albums for $1 each (or all ten for $8) when accompanied by a Station Check. All God's Children Got Shoes - Gogi Grant/Goin' Home - Gogi Grant/Witch Doctor - Augie Colon/Mexican Wedding Dance (La Bamba) - Bud & Travis/Raspberries Strawberries - Bud & Travis/I've Found A New Baby - Si Zentner/Hawaiian War Chant - Invitations//Beyond The Reef - Martin Denny/Sweet Georgia Brown - Johnny Mann Singers/The Varsity Drag - Johnny Mann Singers/The Happy Hobo - Felix Slatkin/April In Paris - Felix Slatkin/My Little Grass Shack - Rene Paulo Trio/Alegrias - Jaime Grito & Nino Marvino

MM-404 -

MM-405 -

MM-406 -

MM-407 -

MM-408 -

MM-409 -

MM-410 -

MM-411 -

MM 412 - Explosive! - Various Artists [1962] Disc Jockey promotional release.

MM-413 -

MM-414 -

MM-415 -

MM-416 -

MM 417 - Spin Time with Liberty - Various Artists [1962] Disc Jockey promotional release.


MM-427 - Special Programmer: Selections from 1966 August Release - Various Artists [1966] The Shadow of Your Smile - 50 Guitars Of Tommy Garrett/Those Lazy Hazy Crazy Days Of Summer - Si Zentner/Je T'Aime - Gilbert Becaud/Softly As I Leave You - Matt Monro/Quiet Village - Martin Denny/Red Roses For A Blue Lady - Vic Dana//Girl, I Think I Love You - Pair Extraordinaire/Wild Thing - Ventures/Back Talk - Bobby Vee & Jackie DeShannon/Let's Go Get Stoned - T Bones/Little Deuce Coupe - Jan & Dean/The Night Has A Thousand Eyes - Bobby Vee


BV-1-A - Special Interview with Bobby Vee - Bobby Vee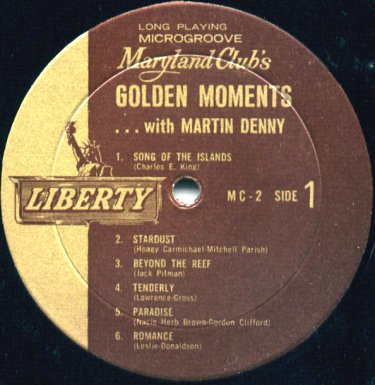 Special Products Issues:

The graphics on the label are similar to regular issues, but are in a brown and gold color scheme.

MC-1 - Sing Along with Maryland Club - Johnny Mann Singers [1962?] Special album pressed for Maryland Club Coffee. I'm Confessin' That I Love You/Doodle Doo Doo/My Blue Heaven/Yes Sir That's My Baby/Five Foot Two Eyes Of Blue/East Of The Sun West Of The Moon/It's The Talk Of The Town/You Must Have Been A Beautiful Baby/I'm Looking Over A Four-Leaf Clover/others

MC-2 - Maryland Club's Golden Moments with Martin Denny - Martin Denny [1963?] Special album pressed for Maryland Club Coffee. Song Of The Islands/Stardust/Beyond The Reef/Tenderly/Paradise/Romance//Ebb Tide/My Romance/Magic Is The Moonlight/My Reverie/A Fine Romance/Harbor Lights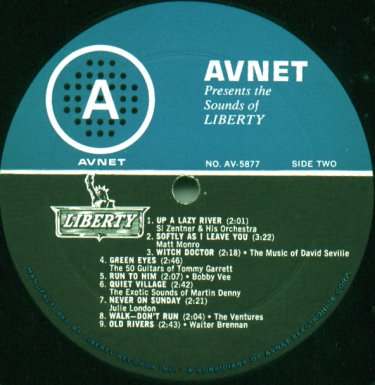 Avnet/Liberty

This album had a special label, with the Avnet logo on top, and the Liberty logo on the bottom of the label.

AV-5877 - Avnet Presents the Sound of Liberty - Various Artists [1962?] Serenade in Blue - Si Zentner Orchestra & Johnny Mann Singers/Cry Me a River - Julie London/Moonlight Becomes You - Pete King/Little Altar Boy - Vic Dana/Fever - Unique Rhythms Of Richard Marino/The Alvin Twist - Chipmunks/Carmen's Hoedown - Felix Slatkin//Hurt - Timi Yuro/In a Shanty in Old Shanty Town - Johnny Mann Singers/Up a Lazy River - Si Zentner/Softly as I Leave You - Matt Monro/Witch Doctor - David Seville/Green Eyes - 50 Guitars of Tommy Garrett/Run To Him - Bobby Vee/Quiet Village - Martin Denny/Never on Sunday - Julie London/Walk Don't Run - Ventures/Old Rivers - Walter Brennan


Thanks to Bob Celli, Peter Preuss, and Terry Lee Bozeman.




Back to the Liberty Records Story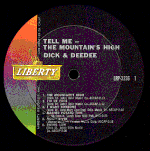 Back to the Liberty Album Discography, Part 1
Regular LPs in the 3000/7000, 11000, 27000, and 35000 series (1955-1971)



Back to the Liberty Album Discography, Part 2
13000/14000 Premier Series (1960-1970)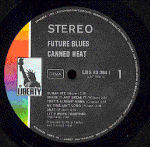 On to the Liberty Album Discography, Part 4
Related Records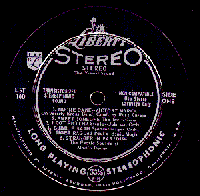 On to the Liberty Album Discography, Part 5
Early Stereo Release Stereo/Mono Cross-Reference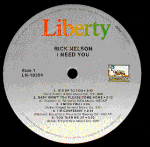 On to the Liberty Album Discography, Part 6
1970s/80s Reissues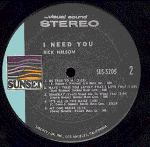 On to the Sunset Label Discography
Liberty subsidiary label (1966-1970)


Back to the Discography Listings Page



Back to the Both Sides Now Home Page